Greetings, American Legion Family.
This article will contain a few thank-you's and comments about our American Legion Family.
First and foremost, a big thank-you to our National Commander, James W. "Bill" Oxford, and his aide, Larry Cline, for visiting our Department of Minnesota.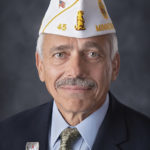 Traveling with our national commander, serving in a second year in that role, it was obvious to me that he has not lost his passion and love for the American Legion Family. He again talked about our many programs, such as Oratorical, Legion Baseball, Boys State, Boys Nation, Girls State, Girls Nation and Junior Shooting Sports.
He said, "These young people are our future leaders, and it's up to us to teach and mentor them on our American values."
He talked about the foreign countries he traveled to and the respect he and his aide received were equivalent to a head of state or an important dignitary.
Thank you to the adjutant general of the Minnesota National Guard, Maj. Gen. Shawn Manke, as well as to Lt. Col. Colin Fleming and Maj. Marian Belinski, for taking the time out of your busy schedules to meet with Commander Oxford.
As former members of the U.S. Armed Forces, Legionnaires are tireless supporters of our nation's troops and their families. From care packages filled and shipped through local Posts to testimony before Congress to prevent drastic cuts to the Department of Defense, the Legion stands tall for those who serve in uniform.
Minnesota Department of Veterans Affairs Commissioner Larry Herke, Deputy Commissioner Brad Lindsay and Deputy Commissioner Douglas Hughes also took time out of their busy schedule to meet with Commander Oxford.
The American Legion has a great working relationship with Commissioner Larry Herke and his staff. Together, we continue to be strong advocates for our veterans. Thank you for meeting with us!
Camp Ripley's senior commander, Brig. Gen. Lowell Kruse, also took time out of his busy schedule to meet with Commander Oxford and briefed him on operations at the Camp.
Commander Oxford was impressed with the variety of missions that take place all year at the camp. The Minnesota American Legion College held its second class at Camp Ripley the week Commander Oxford visited Minnesota. Thank you, Gen. Kruse, for your support in allowing us to use this outstanding facility for Legion College.
We can be proud of all the Posts that hosted our national commander; the respect and patriotism shown was amazing!
Thank you to the following Posts: Arcade Phalen Post 577, St. Paul Park Post 98, North St. Paul Post 39, Osseo Post 172, Royalton Post 137, Nisswa Post 627, Walker Post 134, Park Rapids Post 212, Bagley Post 16 and Detroit Lakes Post 15.
You made the Minnesota traveling team proud!
Commander Oxford and Aide Cline flew out of Fargo on Saturday morning heading back to North Carolina for a few days and then back on the road again.
After dropping them off in Fargo, we were able to stop at St. Augusta Post 621 for the Honorary Junior Auxiliary Conference and give greetings to the many Juniors participating in the Conference.
I was so impressed with the conference and the many Auxiliary members that mentor these young girls to be our future leaders.
My final appreciation and thanks are to the following: Department Adjutant Mike Maxa, Department Communication Director Tim Engstrom and Department Membership Director Sy Fix. You did an amazing job representing the Department of Minnesota American Legion.
One more item in closing: I was invited to a Post meeting by Dawson Post 177 Commander Paul H. Iverson, on April 13. I was asked to present a 75-year continuous American Legion membership certificate to World War II veteran Delbert Thielke.
He served in the Navy in the South Pacific from 1942 to 1947, never leaving his ship. He is a very proud veteran and is thankful to God for his many years on this earth. Also, he makes his own pins with a cross on it and gave one to my wife, Linda, and me.
What an honor!
God bless The American Legion Family.
For God and Country, we continue our mission.
Mark Dvorak is the commander of The American Legion Department of Minnesota.