By Tim Engstrom
Is your Post struggling with membership? Are you using the same old strategy? Does that strategy look like this: Ask members to ask non-members to join.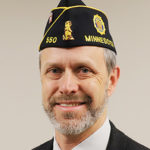 Nothing is wrong with that strategy, but it is a weak approach when it is the only strategy.
Here are some ideas to bolster Post membership efforts.
1. Break bread with all veterans in town.
The Gambling Control Board allows veteran service organizations to use funds to host meals for veterans and their families to recognize military service as long as the cost of each plate is $10 or under.
Your Post can throw a banquet and encourage veterans who come to join the Legion. Maybe call it the Veterans Appreciation Dinner. Maybe even gear it to the young vets and call it the Post-9/11 Veterans Appreciation Dinner.
Make sure there are membership slips at each place setting and, at some point in the program, encourage them to sign up today.
2. Spell out the good.
A lot of young veterans want to know what they get out of being a Legionnaire. I think it would be wise, at all Post meetings, to give a rundown of recent community good the Post has done, even if you are repeating what was stated the past month or the past three months.
Explain that you funded this sports team or these high school scholarships or this food shelf or that veterans' homeless shelter. Explain that you volunteered to clean a ditch or read books or build ramps or retire flags.
What happens in the finance committee does not stay in the finance committee. What happens as volunteers does not stay in the past. This way, when new members come to their first Post meetings, they witness the positives.
It also gives your members something to say when talking to possible joiners or to everyday community members. After all, word of mouth is the best form of advertising.
3. Host a job fair for veterans.
Use the banquet hall in your Post or, if needed, rent a banquet room. Invite employers in your community who desire to hire veterans to set up tables, or even booths, for free.
Have someone in charge of making a map of the room and assigning tables. Expenses for the job fair would be ads and maybe tables and chairs. The fair would boost the Post's support in the business community, too.
Of course, the Legion should have a table, too, preferably near the door, where you approach the veterans about joining your Post. Your area should not be the typical booth, blocked off by a table, with a member behind it in a chair. Instead, use a short table lengthways for materials and goodies. Have chairs for vets to sit down and relax with you as you explain the Legion and membership.
4. Host a resource fair for veterans.
Don't want to do a job fair? You could do a resource fair. This is where you invite organizations, businesses and government agencies in your community who offer veterans programs or benefits, from the county veteran service officers to the local banks (think VA loans) to local colleges to Beyond the Yellow Ribbon to the local economic development agency and so on. They can have tables and meet veterans of all ages in the community.
Make this a one-stop shop for local vets. Of course, your Post would have a booth near the entrance so it is the first and last one they encounter.
You might need to purchase an ad or two and, in some cases, rent tables and chairs.
5. Wear the emblem.
It's not all about finding new members. It's also about new members finding us.
One of the best ways to help non-members find us and spark conversations is to encourage your Post members to sport the American Legion emblem when they are out and about.
Encourage them to purchase American Legion hats, shirts, jackets and wear them. Put an American Legion sticker or magnet on cars or trucks.
The emblem is powerful in the community. There have been times when I am wearing a jacket or polo shirt with the emblem, and strangers hold the door and thank me for my service. This has happened to me in rural Minnesota and urban Minneapolis, white and black. The respect is out there.
An emblem is an ice breaker. Maybe the person holding the door is a veteran, too.
6. Pass out membership slips.
Are all of your new member slips sitting in the office under lock and key? They aren't meant to be stored away like items for a time capsule. Pass them out. Make them available at each and every Post meeting.
The membership director isn't in charge of just paperwork. The membership director also is in charge of motivating existing members to sign new members. He or she should walk around shortly before the meeting asking, "Do you need more of these slips?"
Members, keep some in your car. Keep some in your brief case, purse, wallet, wherever, so that when that joining moment happens, you are ready. You know the Boy Scout motto: "Be prepared."
Commanders, make sure you remind members the price of dues at each Post meeting. Nothing is more eye-rolling than members not knowing how much it costs to join or renew at their own darn Post, but it's not their fault. It's a communication issue.
If you have a bar or restaurant, make sure that bartenders and waitstaff know the price of dues, too. Make sure they have membership slips available.
If your Post meets at a VFW hall or a local restaurant, and especially if you pay rent, then make sure the bar or maître d' stand has member slips to capture walk-in joiners.
7. Practice the pitch.
OK, you don't need to go so far as to do role playing, like salespeople do, but it would be helpful if the membership director or commander stood at the podium now and then and simply explained, "This is what I say when I meet veterans and ask them to join."
Personally, I ask the veteran about their service, then maybe about their family or line of work. Make the conversation not about you. Make it about them.
Transition to discuss the Legion and how it helps veterans and youth in your community. Explain how it gives a sense of service and provides the camaraderie we had in the military. And, like a family, your Post will have your back in good times and bad.
They usually ask a few questions, and, if you are prepared with answers, they join. It's not rocket science.
Yeah, sure, bringing in new members feels good, but you may not even realize how much of a favor you are doing them in the long run.
Besides giving them a set of friends, maybe you even prevented a future suicide. Maybe the joiner ends up doing a lot through the Post for local kids. Maybe the joiner becomes the national commander.
You never know.
Tim Engstrom is the director of communications for The American Legion Department of Minnesota.