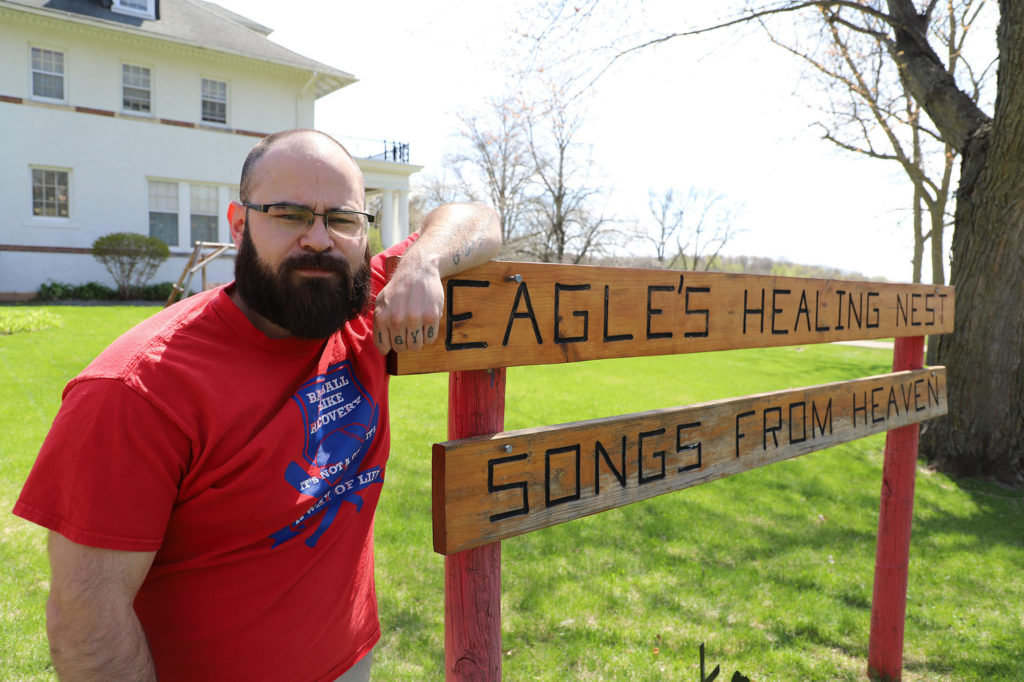 National Guard veteran Tony DeCristofaro talks about his fall from stellar soldier to meth dealer to life as a recovery coach
By Tim Engstrom
SAUK CENTRE — Tony DeCristofaro, 35, has been a substance abuser since he was 13. If you prefer, you could call him alcoholic, meth-head, druggie, all kinds of terms and slang. He usually uses addict.
And he is a Minnesota National Guard veteran.
Today, DeCristofaro is a recovery coach, helping addicts out of the same problems with which he struggled.
When you read his story, you'll find he takes encouraging steps forward followed by agonizing falls backward. But it all starts out in a difficult-to-imagine household in desolate Buffalo, Wyoming.
When DeCristofaro was 1 year old, he and his siblings were taken from their home by the local sheriff's office and placed into foster care. It was 1986.
His name back then was Anthony Wilson. He was the youngest of five kids. The two oldest were girls. The next was a boy, then a girl, then him.
The home had drug abuse, and evidence of other kinds of abuse we don't wish to print here. It had been a nightmare especially for the older kids.
Foster care was far better. When he was 4, almost 5, he was adopted by a couple from Oxenhill, Maryland — Ann and Richard DeCristofaro. His new father worked for the Pentagon, and his new mother was a schoolteacher. Also adopted were his immediate older brother and sister.
Things were looking up, but, again, there was unprintable abuse. It didn't involve the parents. But little Tony had to keep a horrible secret until he finally told his parents, and then the three children were sent to therapists.
"This just rocked their world," Tony said.
One day, Richard's job was contracted out to a New Hampshire company, and the family moved to Bolton, Massachusetts, 30 miles west of Boston.
Tony began taking drugs — pot at 13, booze at 14.
"It took away all the guilt and shame, doubts about myself," he said.
In his teen years he tried cocaine, shrooms, acid and chalked it all up to youth, "but really it was me trying to numb myself."
One night, he woke up with a black eye. His friends say he had been punching himself the night before.
At 19, he realized he had been doing too much coke, grabbed a duffel bag of clothing and left a note for his parents: "I'm off to see the world."
Tony DeCristofaro traveled to Boulder, Colorado, and was with a free-spirit girl for a spell before meeting another woman, then getting her pregnant. At age 21 in October 2006, he and she decided to move to Marshall, Minnesota, where the woman's mother was a school principal and they would have a support system to raise the child.
The young couple built a life, but DeCristofaro began drinking heavily, to the point where he was hiding beer in the garage.
"Finally, the fights and arguments got way too much, and we split up," he said.
A few buddies in Marshall had just returned from the Iraq War, and they suggested he join the Army. He had tried methamphetamine two or three times and decided the Minnesota National Guard would be a good way to clean up his life.
DeCristofaro went to basic training at Fort Jackson in South Carolina, earned a rare promotion from E-1 to E-2, shot "expert" with a 39 out of 40, excelled as a team leader and did well in the highly structured environment.
"I was an all-around fantastic soldier," he said.
He went to advanced individual training to become a mechanic at Fort Lee in Virginia, where he had that structure on weekdays but was free on weekends. Sometimes he drank and even tried synthetic marijuana — but nothing wild and crazy.
DeCristofaro found he didn't have a natural inclination to be a mechanic. He could look up stuff in the manuals, but many other guys just knew what to do. His roommate was so good he was fast-tracked.
In their free time, the soldiers would work out, and one day they did a rope course. DeCristofaro fell off, dropping 12 feet to the ground and injuring the rotator cuff on his left shoulder. He was placed on restricted duty for four weeks and hid his pain. He didn't want to be recycled, so he fought through the pain to pass the PT test. In June 2012, he arrived at his unit — the 224th Transportation Company, 347th Regional Support Group, 34th Infantry Division — in Olivia.
His friend picked him up and drove him to Marshall. They went right to the bar.
DeCristofaro describes himself as a high-functioning alcoholic. He would be drunk at work as a cook in a restaurant in Marshall, then drink with his unit on Saturday nights.
Eventually, the commander banned drinking on drill weekends. Soldiers simply drank in homes or at the Sheep Shedde Inn on the west side of Olivia.
By now, it was 2014. DeCristofaro was an E-4 with an Army Achievement Medal and nominated for Soldier of the Year. Because of regular urine tests, he refrained from smoking pot, but he would get away with meth about three or four times a year, he said.
One day, his left shoulder began hurting again and soon he failed a PT test. He went from doing 80 pushups one year to 13 the next.
He let leadership know, and DeCristofaro saw a doctor at the hospital in Little Falls. His range of motion was terrible, and there was a lot of old scar tissue. The doc put him on oxycodone, a highly addictive opioid painkiller.
You think the story gets better now? No.
Halfway through the bottle, the medicine began unlocking nightmares about his youth. But the unit had deployment orders to Afghanistan, so DeCristofaro didn't mention anything about it. He feared he might not pass the upcoming psychological tests.
He got his hands on Adderall, a prescription amphetamine used for treating attention deficit disorder and narcolepsy.
"I could take the painkillers and not sleep," DeCristofaro said. "Then I would sleep days later when I'm not dreaming because I was so tired."
In Marshall, he was still working at the restaurant and, by this time, bouncing at bars, too. The unit's deployment plans to the Middle East were cancelled.
2015 rolled around and he grew to like meth. He would stay up for a week at a time and go to drill high. Forty-five days into it, he was heavily addicted and doing it daily.
Oh, by the way, DeCristofaro's booze problem was gone.
"Meth takes the drinking out of you," he said.
But the very day in June he submitted his non-commissioned-officer packet was the day his urine sample tested hot for meth.
Instead of becoming an E-5 sergeant, he was demoted to E-3 private first class and placed on probation. To avoid a discharge, he had to submit letters of recommendation. He came clean and told leadership about his shoulder, the nightmares, his addiction.
"I was retained, but I had to be one-year sober," DeCristofaro said.
You think the story gets better now? No.
DeCristofaro then lost his rented housing and was sleeping on a friend's couch. He got in an argument at the restaurant and quit his job. He fell behind on child support and eventually stopped paying it, so 60 percent of his National Guard pay was garnished for that purpose.
"I still did not stop using despite my life falling apart and the agreement with the National Guard," he said.
Somehow, he didn't face another piss test for more than a year. Meanwhile, he was trying to get the Army to fix his shoulder injury from the Fort Lee ropes course.
The Active Army wanted the National Guard to pay for it, and the National Guard wanted the Active Army to pay for it. His platoon leader — whom DeCristofaro holds in high regard — investigated the red tape.
The lieutenant found that because it took so long to report, neither side would cover the costs.
"The rejection was coming from some medical officer in the National Guard," DeCristofaro said.
Now, he was angry at the Army (Active and NG).
"My drill sergeant had told us the Army will take care of you," DeCristofaro said. "Now I need help, but I am getting denied because of money."
In late 2015, he landed a job doing apartment maintenance, and that work provided him a place to dwell.
You think the story gets better now? No.
His use of meth skyrocketed in the winter of 2016, and he began selling it so he could afford to use it. DeCristofaro still went to drill but wasn't performing like the stellar soldier he had once been.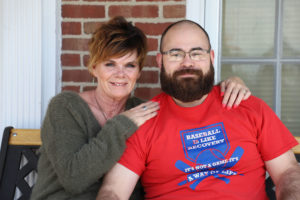 He fell asleep on convoys. He wasn't closing checkpoint gates.
"I went from being the lead E-4 to being pretty much a pile of [expletive]," DeCristofaro said.
Finally, in July 2016, he had to take a urine test.
"I didn't care at that point," he said. "I just felt like a body in a uniform. I was bitter about the Army not fixing my shoulder, and I felt scorned, you know. I couldn't shoot, ruck or wrench."
DeCristofaro filled the bottle with water from a hidden condom and placed the bottle on the table.
"They said, 'That's not piss," he said. "They made me sit for two hours waiting for me to piss again."
During that time, DeCristofaro told them about the problems, the nightmares, the addiction, and that he needed help.
The leadership told him that he should have come forward before dumping water in the urine bottle. Failing a second piss test usually means he gets booted out.
He felt guilty about abuse he witnessed as a child. He felt dishonorable about his military service — he didn't experience combat or have trauma from war to struggle with — yet he had all these problems.
"I felt lower than dirt, man," he said.
You think the story gets better now? Still, no.
Officially, DeCristofaro wasn't out of the National Guard yet. He didn't drill for October, November or December. The unit doesn't meet in January.
On Jan. 4, 2017, the Brown-Lyon-Redwood-Renville Drug Task Force raided his apartment in Marshall. He had found old checks from the company that formerly owned his apartment complex, and he forged checks on a closed account.
Yeah, it was to buy drugs.
The task force found a little bit of dope, he said, because he had stopped selling drugs and was using less meth. DeCristofaro was arrested and spent a night in jail. His girlfriend bailed him out after a court appearance.
Without access to his meth, he was coming down and that causes a brain to lack serotonin. In turn, that condition produces sad and depressed moods and negative thoughts.
Alone in his apartment, with his stuff all over the place from the raid, DeCristofaro put a revolver to his head and pulled the trigger.
Nothing happened.
He was fired from job, lost his leased truck and had a month to vacate his apartment. He hadn't seen his kids since May. He had $180 left. He bought meth, even though he faced another National Guard piss test on Monday, Jan. 8, and court on Tuesday, Jan. 9.
But it was Saturday, Jan. 6, and DeCristofaro made two lines and told his friends: "This is the last time I am doing meth. And that was the last time I did meth."
You think the story gets better now? Yes.
He passed that urine test by masking it — by drinking a concoction with baking soda.
And the judge granted his case a continuance.
He left the courtroom and walked through the Lyon County Courthouse to the county veteran service officer almost in tears and said he needs help. He held up a Beyond the Yellow Ribbon suicide prevention pamphlet.
The CVSO took down his contact info, made him promise not to kill himself and promise to talk with someone first if he began considering it.
One hour later, DeCristofaro was on the phone with Frank Ourada, then with the Montevideo Family Readiness Group, and they had a long talk. He suggested DeCristofaro speak with Carmen Brunsvold, the Family Readiness person at the Marshall Armory.
He did, and they talked for an hour about his situation, legal stuff and, together, they searched the Internet and found he might — MIGHT — get help with the Eagle's Healing Nest in Sauk Centre.
The following week, he called and told the man who answered, then-Assistant Director Todd Westerbeck, that he had been clean for 16 days and was facing all kinds of legal trouble, housing, job, not to mention failing as a father to his own kids.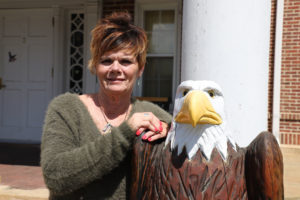 Westerbeck said that whatever happened, he needed to go through a recovery program first.
DeCristofaro replied that he was willing to work for the Eagle's Healing Nest for free.
Five minutes later, he was in a conversation with Founder and Executive Director Melony Butler, who asked about his past.
"If you come here," she told him, "there's no [expletive] around. If you come here, you have to heal. It's about healing."
He agreed and moved there on Jan. 23, but he didn't feel like he deserved help. He hadn't seen combat. He hadn't been a good soldier for some time, either.
"She reassured me that if you signed on the line you deserve this place with whatever you need," DeCristofaro said.
First thing, he got health insurance. He was in art classes, wood-carving classes, poetry writing. What came about was camaraderie with other veterans.
"Mel just loved us until we could heal ourselves again," he said.
His National Guard unit called him in February, asking him to attend drill. But the morning of the drill he was informed, via text message, that he would be discharged and should not come. That was the end of his military stint.
But thanks to the health insurance, he got his shoulder fixed in Sauk Centre.
In April, he was charged with first-degree controlled substance crime for selling meth and two counts of check forgeries, one for $1,800 and another for $1,400. The meth charge they had recorded on tape.
As part of a plea bargain offer, the authorities in Lyon County wanted him to do a controlled buy — basically, wear a wire as part of a sting — to nab others in the drug community.
DeCristofaro refused. He had been clean for four months. No way could he go back to that environment. The detectives told him he could.
"Mel told them to get the [expletive] out," DeCristofaro said.
He soon became a house manager at Eagle's Healing Nest, reconnected with his parents and the court sentence date of Oct. 31 arrived. His attorney asked for a departure from the regulation 65-month prison sentence he faced.
Butler said many vets just need someone who believes in them, but they have to return the trust.
"I don't go to court and advocate for just anyone unless they are showing they want to get drugs in the past," she said.
She said the Nest testified on his behalf, and she noted DeCristofaro said the right words to the judge: "They can take away a lot of things, but they can't take away my recovery."
This judge had never granted a departure, but this time, he did. He sentenced DeCristofaro to one year in jail and 10 years of probation, along with restitution, fines and fees. He spent 238 days in the Lyon County pokey, worked hard to pay off his debt and walked out in June 2018.
"I grabbed recovery by the horns," DeCristofaro said.
He went back to the Nest, back to managing the house. Eventually the program director said he would make a good recovery coach — helping people avoid relapses.
DeCristofaro sought a factory job, but, because he now was a felon, he couldn't get a factory job, and he was denied jobs for four months.
He stopped into Sobriety First Treatment Center in downtown Sauk Centre to see his treatment counselor, and he explained to her that he could not find a job. She said she knew there was a position for a recovery coach, and he said he would give it a shot.
Two days later, he found out there was a free recovery coach academy; the St. Cloud Stand Down and Recovery Community Network would pay for the tuition. He finished in June 2019 and began working at Sobriety First on July 1. He moved into an apartment above the office.
"It's a short commute to work," he said.
He got to see his son again in July 2019 and his daughter that October.
As a recovery coach, "my job is to help fellow addicts who are new to recovery learn how to recover and to show them that it is possible," DeCristofaro said.
The licensed alcohol drug counselors give addicts the tools to live a sober life, while coaches show them how to apply the tools, he said.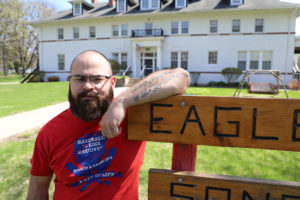 He likes having a sense of purpose again.
"I joke with people I like recovery so much I had to get a full-time job doing it," he said.
DeCristofaro believes that if either the Active Army or National Guard had fixed his shoulder injury, his life might have been a bit different, but he knows the real cause of his woes was childhood trauma.
He has been diagnosed with PTSD and noted 6 percent of PTSD victims experienced combat. The rest are from domestic abuse, sexual abuse, firefighting, police work and so on.
During the COVID-19 pandemic, DeCristofaro still goes to work daily. He leads three group sessions — two meet five days a week and the other is Monday-Wednesday-Friday.
He drives to Marshall from time to time to see his children. His son is now 13 and daughter 12. He said their mother is a good mom and has full parental rights. The stepdad, he said, is a good man.
Through it all, he remained connected with his sister, the one who moved to Maryland with him from Wyoming, and they remain close to this day.
"We say, 'LYA,' which means, 'Love you always," DeCristofaro said. "She's the one person I have known through my entire life."
DeCristofaro has started school at Ridgewater College in Willmar, studying psychology and seeking to be a licensed alcohol drug counselor.
Butler praised DeCristofaro for his recovery effort, diving right in from the beginning.
"I use him as an example. I have gained an amazing Nest son," she said.