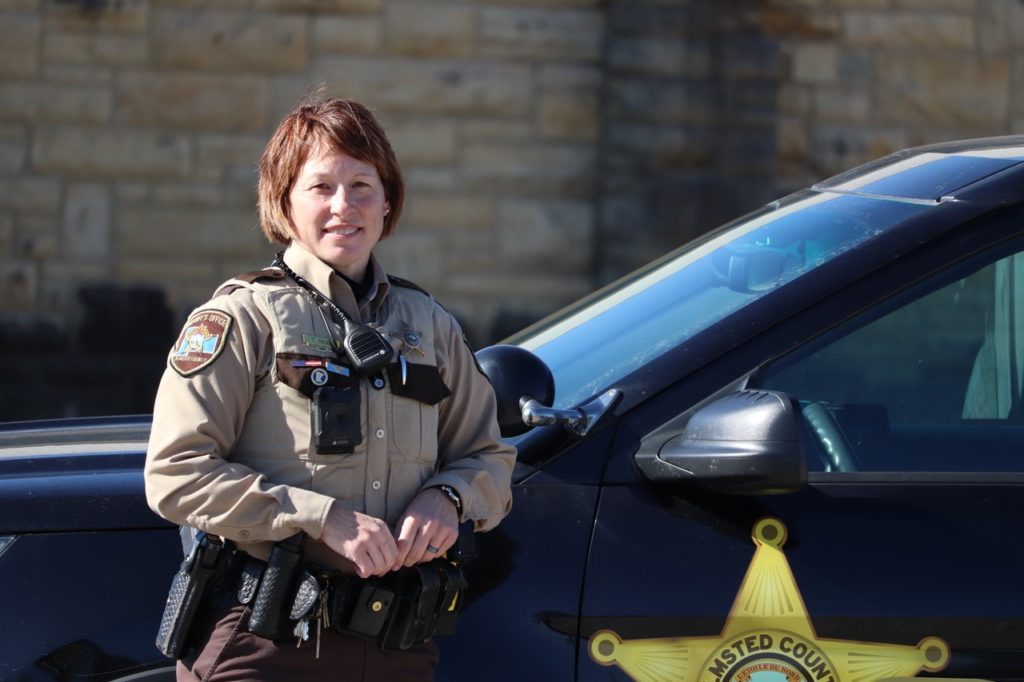 Meet the Minnesota Outstanding Law Enforcement Officer of the Year
A life-saving deputy has been The American Legion 2020 Outstanding Law Enforcement Officer of the Year for Minnesota.
Tracey Pagel of the Olmsted County Sheriff's Office performed actions last fall that saved the life of a little girl after a gravel-road-intersection car crash. She was recommended for the honor by Olmsted County Sheriff Kevin Torgerson and Eyota Post 551.
A remarkable turn of events led to the nomination:
On Nov. 4, shortly before 4 p.m., Olmsted County deputies were dispatched to a T-bone crash four miles east of Elgin, where there were severe injuries and 3-year-old girl wasn't breathing. The 38-year-old mother was performing chest compressions.
"This is a type of call nobody wants to go to but is the type of call everybody goes to, to try and help," Torgerson wrote in his nomination.
Pagel was the first to arrive and checked the vital signs of the girl, Evelyn McKenzie, of Elgin. She found she wasn't breathing and lacked a pulse. She had difficulty putting the pads of a defibrillator on the girl's small body, so she took over from the mother, Kathryn McKenzie, in performing CPR.
Deputy Tom Olson arrived four minutes later and began monitoring Evelyn's vitals and began to detect a faint pulse.
Pagel continued with rescue breaths while the girl had agonal breathing (reflex gasping but not true breathing).
Elgin Ambulance, Mayo Clinic Ambulance and Mayo One Air Ambulance arrived and took over care for Evelyn and brought her to St. Mary's Hospital in Rochester. The girl was able to go home to her family on Dec. 20.
Pagel is married with two sons and enjoys riding horses, camping and fitness in her spare time. She sings the national anthem for many events such as the Eagle's Cancer Telethon.
She was a reserve deputy from October 1993 to July 1997. She became a detention deputy that month and in June 2007 became a patrol deputy. She was a DARE instructor from 2008 and 2016 and a school resource deputy from 2011 to 2016. She serves on the sheriff's honor guard. She is a certified lifesaver instructor, a crisis negotiator and a member of the mobile field force. She has been involved in community policing efforts, too.
A Jan. 8 story in the Rochester Post-Bulletin said the driver who struck the McKenzie car, injuring the girl, is a man from Chatfield. His name is Joshua Michael Jacobson, 39, and he faces two counts of criminal vehicular operation and gross misdemeanor criminal vehicular operation. He also was in trouble for driving after his license was revoked.
The story says a blood sample was taken after the crash, and it was found to contain methamphetamine and amphetamine, as well as marijuana. Court records say Kathryn McKenzie was heading east in her Toyota Camry at about 35 mph when she was struck by Jacobson's northbound Ford Explorer. The crash's force wedged the Toyota against a utility pole, damaging the right rear door, and the girl was buckled in a child seat in the right rear.
Jacobson told deputies when he approached a yield sign he slowed down but did not see the Camry because the sun was in his eyes. The Post-Bulletin story said he admitted to using the drugs two days before the crash. A drug-recognition evaluator determined he was under the influence of a central nervous system stimulant.
Eyota Post 551 Commander Jenny Enright added that Pagel has earned other honors. Among them was successful negotiation with a man in Wabasha County who had fired a round from a gun and wanted to kill himself. She was awarded the Stinger Strip Pin for a successful deployment of a spike strip system, ending a pursuit that began in Mower County. She was honored by a local NBC affiliate TV station with the Amazing Woman Award.
In addition, for the actions at the car crash, Pagel was given the Olmsted County Sheriff's Office Life Saving Award.