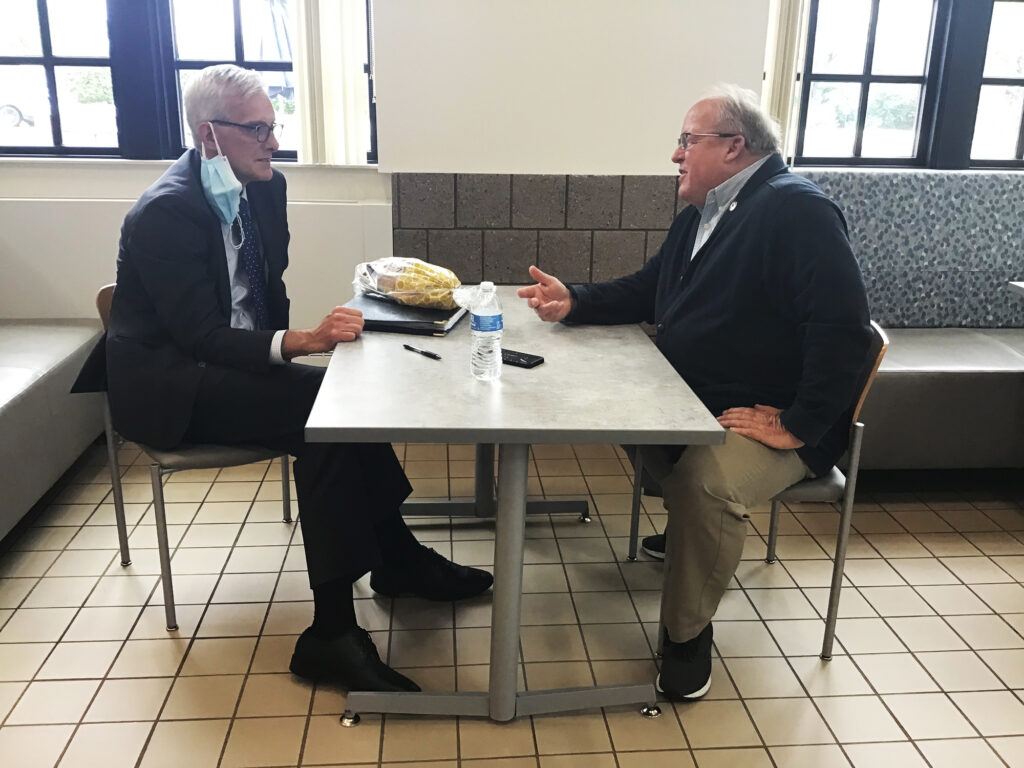 McDonough meets with Legion during Minnesota visit
By Tim Engstrom
ST. CLOUD — An issue that has seemed dead at times over the past 10 years is finally gaining traction.
State officials and an American Legion member met with VA Secretary Denis McDonough in May on expanding Vet Centers in Minnesota.
Vet Centers are places veterans, active servicemembers and their families can access readjustment counseling without it appearing on records or going through the hassle of paperwork. Minnesota has a shortage of them, noticeable when comparing veteran populations among states.
Legionnaire Phil Ringstrom of Sartell met with McDonough one-on-one for about a half hour about Minnesota's shortage of Vet Centers.
"He alluded to the fact that there's a real possibility," Ringstrom said.
Gov. Tim Walz meets with the Minnesota Commanders' Task Force quarterly, and at a spring meeting, the governor and Veterans Affairs Commissioner Larry Herke told the commanders they would raise the issue with Minnesota's own McDonough at their next meeting.
In the meantime, American Legion Department of Minnesota Adjutant Mike Maxa has communicated with the Governor's Office on the issue. The Department has pushed for expansion of Vet Centers since 2011.
The opportunity came May 19. Herke described it as a 15-minute conversion among Walz, McDonough and Herke. They arranged for a meeting on May 20 with Ringstrom.
The issue of adding Vet Centers in Minnesota has been pushed by The American Legion since 2011, when the Department Executive Committee passed a resolution calling for the expansion of three Vet Centers. In 2019, the CTF added Vet Center expansion to its legislative platform.
The CTF Position Paper called for new ones in St. Cloud, Bemidji and Mankato. Presently, Minnesota has three: St. Paul, Anoka and Duluth.
A major obstacle has been the process by which the VA decides to expand Vet Centers. In a nutshell, it requires setting up temporary Vet Centers at a location, such as a Legion or VFW Post, or with a mobile unit (in what looks like a bookmobile) and then measuring the demand.
Ringstrom explained this to McDonough, who understood the difficult of such a process.
"The policy reads that you need to go to a community to stir up interest for those who want counseling," Ringstrom told McDonough.
"You mean, like, raise your hand if you want counseling?" McDonough asked.
"Yeah."
"Oh my."
The other Catch-22 is setting up a temporary Vet Center takes away staff time from existing Vet Centers, which already are struggling to keep up with demand. If staff spends time doing the VA's expansion process, they fall further behind in caseload, Ringstrom said.
He provided the secretary with four documents:
• A letter to the editor he sent to the St. Cloud Times (and expects to be published by Memorial Day). See Mail Call on Page 4 to read it.
• The CTF Position Paper on Vet Centers from February 2020, which shows Minnesota has 1 Vet Center for every 100,000 veterans while Wisconsin has 1 for every 65,000 and Iowa has 1 for every 61,000.
• A market analysis created by American Legion Department Service Officer Jeremy Wolfsteller that says, out of 318,000 Minnesota veterans, there are about 31,800 eligible for Vet Center services, with 3,100 within reach, and only 700 being served, leaving a vast market for expanding Vet Centers. It also notes the obstacle of publicly asking for counseling.
• The VA policy on expanding Vet Centers.
Ringstrom said they talked about how veterans have changed over the years and the support networks are different. They talked about the importance of family, too.
McDonough mentioned three major funding sources: the CARES Act, the annual VA budget and the possible infrastructure bill being debated in Congress.
"Within those budgets, there's a good likelihood we can afford a Vet Center," Ringstrom said, describing McDonough's words.
Herke said if the VA expands only by one, it would be in St. Cloud.
He and Walz hope the VA can get a Vet Center in St. Cloud immediately, while going through the VA steps for outposts in Bemidji and Mankato. St. Cloud has the highest veteran suicide rates outside the metro.
"We explained why it was important for active-duty, veterans, and for National Guard, both Army and Air National Guard, soldiers and airmen, who have deployed several times over," Herke said.
Ringstrom said having readjustment counseling in Bemidji would be important for serving the veterans who are tribal members, and the Mankato one would fill a service gap, with the nearest ones being Des Moines, La Crosse, Sioux Falls and St. Paul.
McDonough toured the St. Cloud VA Medical Center on May 20 and visited the St. Paul Vet Center later in the same day. Herke said Walz will give an update when he speaks to the CTF on June 9.