HUTCHINSON — Marine Lt. Col. Oliver North. Book author Oliver North. Fox News commentator and host Oliver North. Past NRA President Oliver North. Husband, father and grandfather Oliver North.
The man has worn many hats over the years. Now he is coming to the annual Saluting Community Heroes Celebration Dinner on Nov. 18.
He first came across the American consciousness during his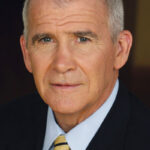 military career as a counter-terrorism coordinator on the National Security Council staff, when he testified in 1987 before a congressional committee investigating arms sales.
However, many people don't know North helped plan the rescue of U.S. students during the 1983 Grenada invasion. He managed the mission to hunt down terrorists responsible for the 1983 Beirut barracks bombing. He was part of the effort to capture the hijackers of the Italian cruise ship Achille Lauro in 1985. And he helped plan the 1986 air strikes on Libya in response for a bombing at a West Berlin disco.
He graduated from the U.S. Naval Academy in 1968 and served 22 years in the Marines. His combat awards are Silver Star, Bronze Star and two Purple Hearts.
Admission to the dinner is with advance tickets only. The reception is at 5:30 p.m., with a 7 p.m. dinner and program. Visit salutingcommunityheroes.com.