ST. PAUL — American Legion National Commander James W. "Bill" Oxford returns to Minnesota in April.
In February 2020, Oxford, who hails from Post 29 in Lenoir, N.C., toured southern Minnesota. This time, the National Commander's Tour will start in St. Paul and head northward.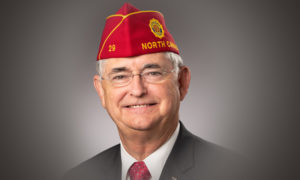 He arrives Monday, April 5, at Minneapolis-St. Paul International Airport. On Tuesday, April 6, he has lunch at noon at St. Paul Park Post 98, with dinner at North St. Paul Post 39.
Wednesday, April 7, the tour is northbound. Breakfast is at Osseo Post 172, lunch at Royalton Post 137 and dinner at Nisswa Post 627. On Thursday, April 8, the tour stops at Walker Post 134 for breakfast. On Friday, April 9, breakfast is at Park Rapids Post 212, lunch at Bagley Post 16 and the grand finale will be a dinner at Detroit Lakes Post 15.
At each stop, Oxford speaks on various aspects of The American Legion.
Legion members and the general public are invited to attend his stops. Contact the Post for arrangements. See the inset box for phone numbers, times, other details.
Oxford flies out of Fargo on April 10.
The commander will tour with his aide, Larry Cline, of Lincolnton Post 30 in North Carolina, along with Minnesota Commander Mark Dvorak of New Prague Post 45, Adjutant Mike Maxa of Montgomery Post 79, Membership Director Sy Fix of La Crescent Post 595 and Communications Director Tim Engstrom of Bloomington Post 550.
Oxford also has meetings not open to the public. During the tour, he is slated to meet with Minnesota Veterans Affairs Commissioner Larry Herke and Minnesota National Guard Commissioner Maj. Gen. Shawn Manke. Oxford will tour Camp Ripley and meet with instructors and second graduating class of Minnesota American Legion College.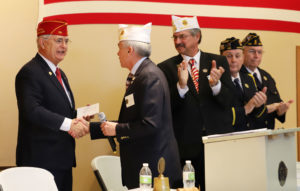 He is the first National commander to serve a second year. With the National Convention being canceled in 2020 because of the coronavirus, officer positions throughout most of The American Legion went a second year.
He served as Department of North Carolina commander 2010 to 2013. He is a former mayor and City Council member of Cajah's Mountain, N.C. He has a bachelor's degree in environmental studies and multiple safety and environmental certificates. He has volunteered in Legion Baseball, too: coach, umpire and public address announcer.
He is a veteran of the Marine Corps and served during the Vietnam War as an aviation electronic technician for the A-6 Intruder. He served in Vietnam during his initial enlistment. He was discharged in 1970 as a sergeant, then joined the North Carolina National Guard, eventually retired as a colonel after more than 34 years of military service.
Oxford and his wife, Frances, have been married since 1967. They have a son, Charles (married to Deah Reid) and a daughter, Jackie (married to Mike Carr). They have four grandsons: Isiah, Micah, Jaggar and Dawson.
National Commander's Tour
April 6-9, 2021
Please call or email to reserve your spot:
Tuesday, April 6, 2021
St. Paul Park Post 98, lunch, noon, post98spp@gmail.com
North St. Paul Park Post 39, social hour 5 p.m., dinner, 6 p.m., 651-777-3708, Ext. 207
Wednesday, April 7, 2021
Osseo Post 172, breakfast, 8 a.m., 763-425-4858
Royalton Post 137, lunch, noon, 320-584-5135
Nisswa Post 627, social hour 5 p.m., dinner, 6 p.m., 218-963-9946
Thursday, April 8, 2021
Walker Post 134, breakfast, 8 a.m., 218-547-1011
Friday, April 9, 2021
Park Rapids Post 212, breakfast, 8 a.m., 218-732-5238
Bagley Post 16, lunch, noon, 218-209-8676
Detroit Lakes Post 15, social hour, 5 p.m., dinner, 6 p.m., 218-847-8533