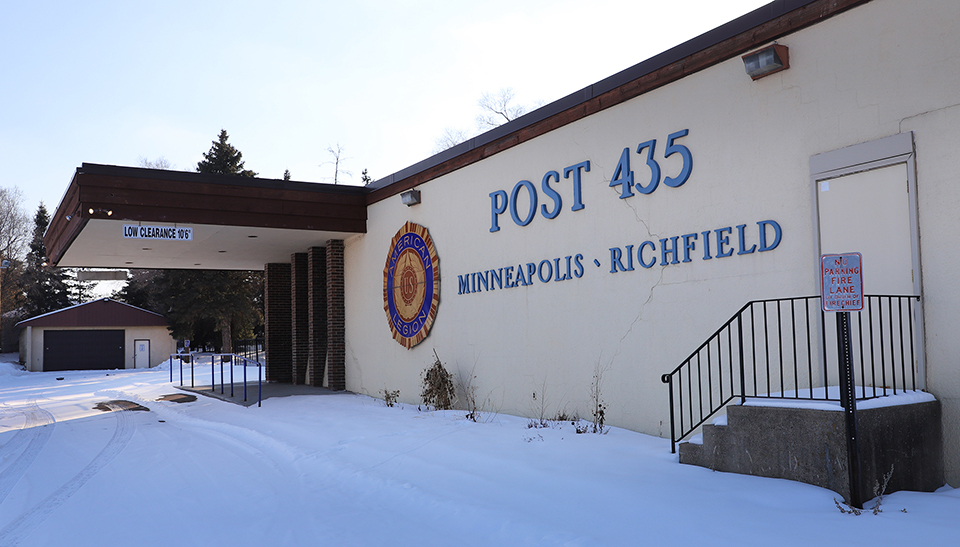 A changing of the guard
RICHFIELD — The restaurant, bar and banquet operations of Minneapolis-Richfield Post 435 have been closed since January 2020, and since that time, there has been a fair share of wild speculation.
"The goal of Post 435 has been to endure and come out the other side stable and able to engage in Legion business, being a part of the community and serving veterans," said Commander Adam Seamans.
Presently, the city of Richfield has a moratorium in place for development of structures on the southwest corner of Veterans Park, because the city wants to make sure what ends up there fits in with the park. That moratorium comes to an end this summer.
The next step for Post 435, Seamans said, is to hire a real estate agent, then hear proposals from developers.
Post leadership, he said, would like a space in the new structure for a Post home that has room for a restaurant, a bar and banquet space — scaled down and nothing like the nearly 19,000-square-foot structure it is burdened with. It even could be a spot for other Legion or VFW Posts to call home.
"We are still working with the city and the mayor. They want us there. We want to remain there," Seamans said. "We just don't know what it's going to look like at this point."
Post 435 was chartered in 1927, and it experienced phenomenal growth on its way to becoming the largest American Legion Post in Minnesota. It added "Minneapolis" to its name in 1941 to acknowledge an area of Richfield that had been annexed by Minneapolis.
According to "Legion 50," a history of the first 50 years of the Minnesota American Legion, Post 435 reached the 1,000-member mark in 1946, 2,000 in 1959, 3,000 in 1961, 4,000 in 1962 and 5,000 in 1967. In fact, that year, Post 435 was the third-largest Post in The American Legion. By the 1950s, the Post had membership greater than 7,000.
The first Post home was at 6439 Nicollet Ave., purchased in 1943 from a nightclub owner. In 1956, arrangements were made to sell that structure and build a new place at 6501 Portland Ave. adjacent to Veterans Park.
A dedication ceremony took place March 20, 1957. There stood Department Commander Everett Getten of Wayzata with Past Department Commander Dan Foley of Wabasha on hand with National Commander Wilbur "Dan" Daniel of Virginia.
Foley would go on to be national commander in 1963-64.
The Post organized a gun club in 1958. A remodeling and expansion took place in 1966-67. Another expansion happened in 1974-75.
Today, the Post has 862 members and is the second-largest in Minnesota, losing its first-place title to Apple Valley. Richfield was at 1,015 last year, but the issue of the building has prompted some members to transfer to other Posts.
Seamans acknowledges emotional attachment members have to the building.
"I'm attached to it, too. I live four blocks away," he said.
But that building is cost-prohibitive. Seamans said Post leadership looked into renovating.
The plumbing would need to be redone, with a new connection to the sewer. It would need a new roof, new heating and air conditioning, not to mention asbestos problems.
Plus, Post 435 had mounting bills. It owed back taxes, owed utilities and had unclear books, all resulting from manager and bookkeeper turnover, a lack of skills and, as usual, poor communication. It even had an embezzling scandal in 2015 and relinquished its charitable gambling license.
The overall problem? Too many chiefs, each with their own take on running the place.
Example: One bookkeeper with little knowledge of the Legion Family or the Post's history almost sold off its historic flags.
Post leadership hopes the worst is in the rearview mirror.
"We've proven we are not restauranteurs. It's a different industry now," he said. "And it has distracted us from the business of the Legion."
Seamans envisions a bar and kitchen operated by a third-party contractor. The banquet space would be a place for community functions, from weddings to conferences to service club meetings, and a place for the members to conduct Legion business. And the Auxiliary. And the Sons of The American Legion. And the Legion Riders.
As for the rest, the options are open: The new building could be a one-story or multistory building, possibly with other businesses nearby or with apartments above or beside.
The city, he said, has pushed for affordable housing, and Seamans said it would be great if that housing was for veterans. After all, Post 435 is pretty much just down Highway 62 from the Minneapolis VA hospital.
"It will help us fulfill our mission," Seamans said.
But he and others remain open to the city's input. The city is conducting a study during the moratorium, and, he said, it will be interesting to see what it envisions for the location.
Post 435 owns a firing range south of the Twin Cities, and that has been one of many reasons for its strong membership. The gun range is not part of any sale.
10 largest Minnesota American Legion Posts
As of Feb. 16, 2021:
1. Apple Valley Post 1776 895
2. Minneapolis-Richfield 435 862
3. Rochester Post 92 779
4. West Duluth Post 71 685
5. Anoka Post 102 654
6. Forest Lake Post 225 608
7. Waite Park Post 428 596
8. Osseo-Maple Grove Post 172 595
9. Brainerd Post 255 571
T10. Moorhead Post 21 561
T10. East Grand Forks Post 157 561
Note: This list does not include Post 1982, which is for at-large Minnesota members who don't belong to a local Post. It has 2,067 members. At above 6,600, the Lady Lake, Fla., Post presently lays claim to the largest in the world.