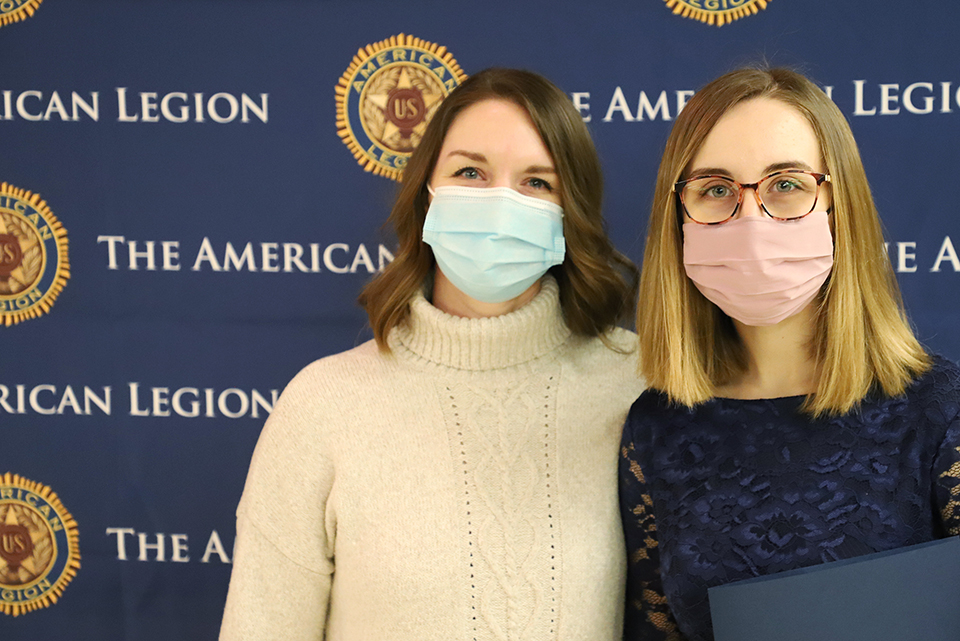 FOR IMMEDIATE RELEASE
Monday, March 1, 2021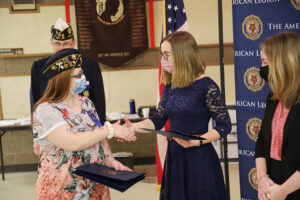 ANOKA — A senior at Litchfield High School is the champion of the Minnesota American Legion Oratorical Contest.
Hazel Chvatal, 17, earns a $1,500 scholarship from The American Legion Department of Minnesota.
Normally, she would move on to compete at the national level in April, but the National American Legion Oratorical Contest has been canceled as a result of the COVID-19 pandemic. If the national contest had been held, the winner would have received a $25,000 scholarship. Instead, the national contest is awarding all state champions $5,000.
She won a $500 scholarship from Litchfield Post 104 and a $700 scholarship from the Legion's District 7 of Minnesota.
That means Hazel has a grand total of $7,700 in American Legion scholarship funding.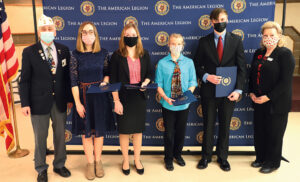 "Seeing young people grow in their skills and their knowledge of the country, this is what it means to be a Legionnaire," said Minnesota American Legion Commander Mark Dvorak of New Prague. "We look forward to this contest every year."
Finalists from four American Legion districts across Minnesota qualified to compete at the state finals on Saturday, Feb. 27, at Anoka Post 102. Hazel was sponsored by Litchfield Post 104 and was the winner of the Legion's 7th District, which is Grant, Douglas, Traverse, Stevens, Pope, Big Stone, Swift, Kandiyohi, Meeker, Lac Qui Parle, Chippewa, Yellow Medicine and Renville counties.
The Oratorical Contest requires contestants to be able to deliver two speeches in front of a crowd without notes. The topics are related to the U.S. Constitution. The first speech is prepared beforehand and runs eight to 10 minutes; the second is three to five minutes, with just five minutes to prepare. Winners receive scholarships.
When the winners were announced, Hazel did not expect to come out the winner, she said.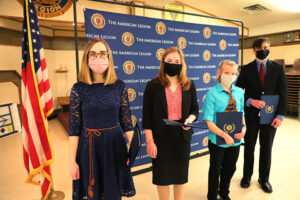 "I was not expecting that at all. I was shocked," Hazel said.
She plans to study architecture this fall at North Dakota State University. Hazel is the daughter of Kristi and Bob Chvatal of Litchfield.
"I am just so proud of her," Kristi said. "She worked hard to get here. She overcame challenges. She's always been a motivated student."
"She's a bright gal. She's going to go pretty far," said Litchfield Post 104 Americanism Chair Rueben Nathe, a Navy veteran. He also served as District 7 Americanism Chair.
Many American Legion youth activities, such as baseball, fall under Americanism, one of The American Legion's Four Pillars.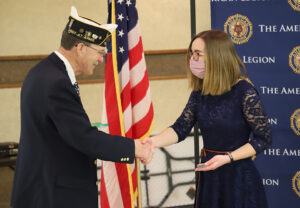 Second place went to Julia Schowalter, a junior at Eagan High School. She was sponsored by Eagan Post 594 and was the winner of the Legion's 3rd District. She earns a $1,000 scholarship.
Abigail Erpelding, a freshman home-schooler from Kasson, won third place. She was sponsored by Kasson Post 333 and won the 1st District. She earns a $700 scholarship.
David Vickers, a freshman home-schooler from Minneapolis, captured fourth place. He was sponsored by Minneapolis Falldin Post 555. He earns a $500 scholarship.
The last time a Minnesota student won the National Oratorical Contest was 2003, when Henry Shea IV of Wayzata took the title. He was sponsored by St. Louis Park Post 282. The contest has been in existence since 1938.
CONTACT:
Tim Engstrom
Director of Communications
American Legion Department of Minnesota
tengstrom@mnlegion.org
952-679-0134