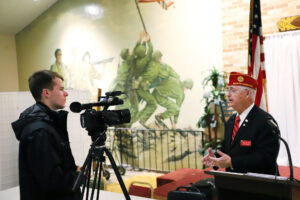 On the first day of Christmas the Minnesota American Legion gave to me interviews with WWII vets.
The American Legion loves collecting and sharing veteran stories! This past year, an American Legion member of Bemidji Post 14 interviewed over 60 local WWII vets. These stories were put online and were televised on a local cable station. Thank you for sharing your stories, vets!
On the second day of Christmas the Minnesota American Legion gave to me outstanding support from local posts.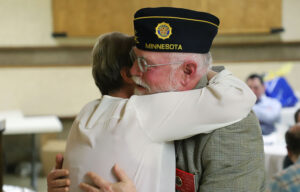 Veteran Richard Doyle from Minnesota American Legion Post 225 in Forest Lake, MN calls attention to outstanding support from his local post. They supported him during his wife's illness and after her passing. They provide him with three free hearty lunches each week. They mow his lawn and plow his driveway and drive him to medical appointments. Doyle is thankful for his local post and its officers and says they are just like family to him.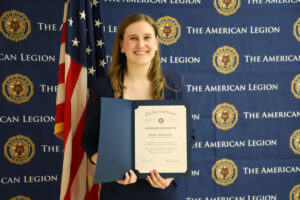 On the third day of Christmas the Minnesota American Legion gave to me the winner of the Minnesota American Legion Oratorical Contest.
Jamie Jablonsky, an 18-year-old from Jordan High School was awarded this year's first-place award in the Oratorical Contest, earning a $1,500 scholarship. Sponsored by Jordan Post 3, Jablonsky delivered a memorized speech in front of a crowd. She overcame her nervousness to compete in the contest for the third time. She plans to go into marketing at Minnesota State University in Mankato.
On the fourth day of Christmas the Minnesota American Legion gave to me Enhanced Buddy Checks.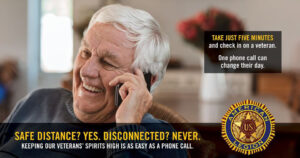 In response to the COVID-19 pandemic, American Legion National Commander Bill Oxford increased emphasis on the Buddy Check program. He felt that it was important to go above and beyond a phone call or email and do everything members of his post can to help aging veterans in his area. If members of his post are unable to help with a specific need, they hook the veteran up with someone who can. They prioritize veteran safety and well-being and look after aging local vets as if they were family.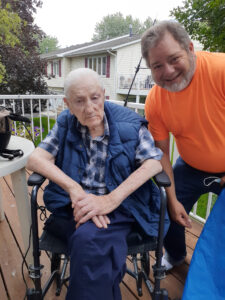 On the fifth day of Christmas the Minnesota American Legion gave to me a 100th birthday celebration.
World War II Navy veteran Art Lenius celebrated his 100th birthday this year with a small family gathering. Lenius was born in Frazee and served from February 1942 until December 1945, receiving the Presidential Unit Citation, Navy Unit Citation, Good Conduct Medal, European African Middle Eastern Campaign Medal with two stars and the Asiatic-Pacific Campaign Medal with five stars. He went to sonar school, served aboard the USS Doran DD-634 and the USS John C. Butler DE-339 in the Atlantic, Pacific and Mediterranean and currently resides in Bloomington, MN. 
On the sixth day of Christmas the Minnesota American Legion gave to me COVID-19 funding for vets.
In 2020, the legislature secured $6.2 million in COVID-19 grants for veterans financially impacted by the pandemic. Lawmakers also secured $250,000 for the Medal of Honor Memorial outside the Veterans Service Building in St. Paul. The Minnesota American Legion proudly advocates for veterans issues. 
On the seventh day of Christmas the Minnesota American Legion gave to me ramps built by the Lakeville Ramp Team.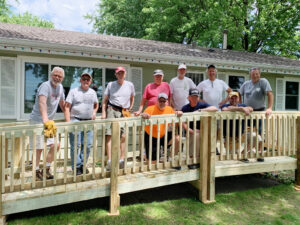 Five veterans and a group of friends comprise the Lakeville Ramp Team. Together they respond to needs for ramps from county veteran service officers and the general public and build about eight ramps each year. Sometimes, the team widens doorways so wheelchairs can fit through, adds egress windows or adapts restrooms. Since they've been in operation, the Lakeville Ramp Team has constructed over 80 projects for vets with mobility needs.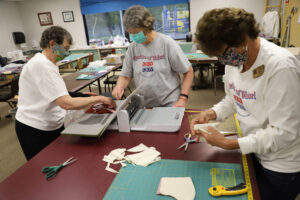 On the eighth day of Christmas the Minnesota American Legion gave to me masks made by the Quilts of Valor.
Quilts of Valor out of Dent, Maine Township and Fergus Falls partners with the Minnesota American Legion to sew quilts for veterans touched by war. This year, as a response to the COVID-19 pandemic, the 135+ Quilts of Valor volunteers created 5,400 masks for veterans and staff at VA hospitals and state veteran homes. They don't tout their story but are unsung heroes serving our veteran community during a time of global crisis. They reap the intrinsic rewards that come with creating for and giving to those in need. 
On the ninth day of Christmas the Minnesota American Legion gave to me vet services by Minnesota National Guard and Army Reserve veteran Garth Carlson.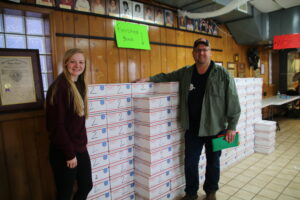 After the April purchase of a former elementary school in Winnebago, Minnesota veteran Garth Carlson opened up the space for free meal distribution during the COVID-19 pandemic. He plans to lease building space to veteran organizations and other community groups. His company, Veteran Enterprises, together with American Legion Post 82 hands out free meals in Winnebago on Mondays, Wednesdays and Fridays to veterans and to those in need. He hopes that the building can also be used down the road as a treatment center for those battling addiction.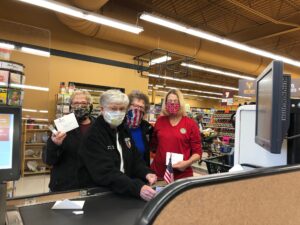 On the tenth day of Christmas the Minnesota American Legion gave to me recognition of Lake Crystal veterans. 
On April 18, the John W. Roth American Legion Auxiliary Unit 294 in Lake Crystal honored nine veterans—seven from the army and two from the navy. Each one received a card of gratitude thanking them for their service along with a gift card to Kevin's Market, the local grocery store. Each veteran was recognized for their service, sacrifice and dedication to our country. This project received support from the American Legion Auxiliary Foundation and American Legion Post 294.
On the eleventh day of Christmas the Minnesota American Legion gave to me suicide awareness by National Commander James W. "Bill" Oxford.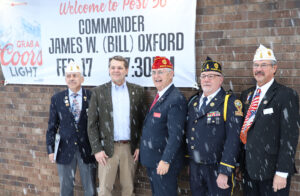 During a stop in Albert Lea, Oxford cited alarming veteran suicide statistics and called for de-stigmatizing suicide by opening up the conversation for veterans to engage in. He wants veterans to know that it's okay to ask for help. He encouraged everyone in a veteran's circle to support them because, "We are our brother's keeper," and encouraged them to say something if they see something concerning. Oxford then pointed people to the National Suicide Prevention Lifeline as an excellent resource.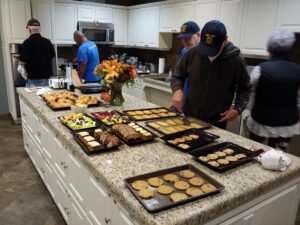 On the twelfth day of Christmas the Minnesota American Legion gave to me breakfast for veterans by Post 594.
In 2020, the Eagan Post 594 members continued providing meals at the Fisher House for families whose loved ones are patients at the VA Hospital and Medical Center in Minneapolis. When they started serving these free meals in 2019, Hy-Vee in Eagan partnered with Post 594 for the first three months of the program. This year, Hy-Vee pledged their indefinite continued support of the program. 
"We really appreciate Hy-Vee partnering with us. Store leadership really cares about veterans and Hy-Vee is helping us make a difference for those families with loved ones in the VA Hospital," said Post 594 Commander John Flynn. 
If you're a veteran but not yet a member of the Minnesota American Legion and you're interested in getting involved, visit our membership page here to learn more!