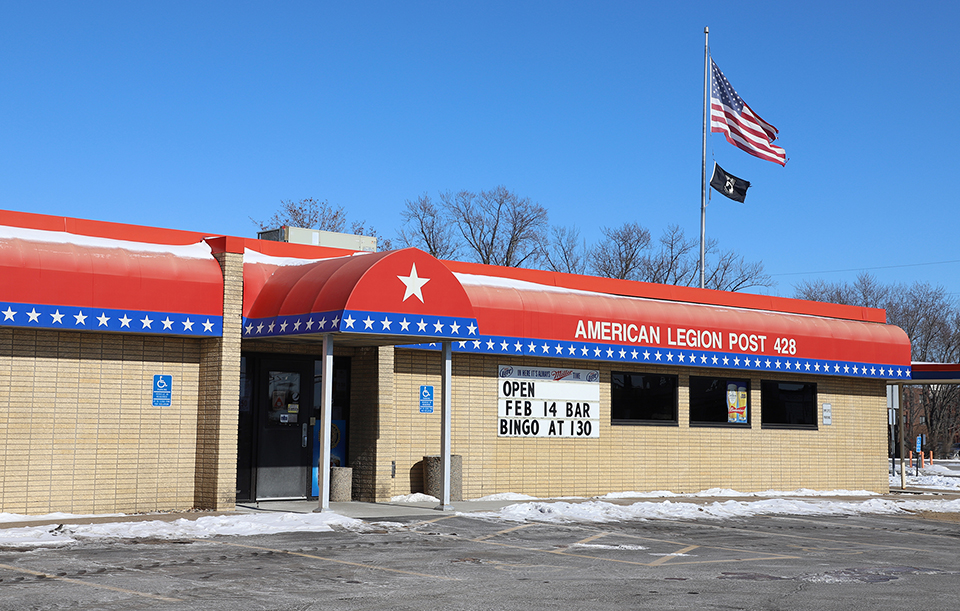 WAITE PARK — Don't believe the rumors. Waite Park Post 428 is not turning in its charter. Its not giving up conducting the work of The American Legion, especially in a vet-heavy community with a VA hospital and many veteran funerals.
It is, however, selling its building where it held bar, restaurant and banquet operations.
Adjutant Tom Fernlund confirmed that the Post Executive Committee is in the closing process with a company that intends to turn the location into a car wash.
The Waite Park Post 428 home is at a high-traffic location, on the corner of Division Street and Second Avenue. Fernlund noted the Post still owns a parking lot across Second Avenue, next to a fast-food joint called Bestburgerever.
The Post's monthly meetings will continue at the Loyal Order of Moose Lodge in Waite Park for the time being, he said. The Post will complete the sale before members figure out the next move.
"It's kind of an exciting move, the way I look at it," Fernlund said. "We can focus more on what The American Legion does."
The sale is expected to close in May or June.
Fernlund said being on a busy road was a plus but the public didn't always realize they can enter a service organization's restaurant.
The main problem was a large and aging building, he said.
"We were spinning our wheels to pay for things. The cost of everything keeps going up: electricity, heating, property tax," he said.
The roof was starting to leak, too, so another major expense was on the horizon.
"It's just all the things coming together, and we have to look at all the things coming in and figured it was time," Fernlund said.
Other factors were the government-imposed shutdown, government-imposed smoking ban, people not dining out at sit-down restaurants as much as they used to, many more types of dining options in the Crossroads Center area and aging membership that wasn't coming in as often, he said.
He said there has been talk about finding an off-site location for its charitable gambling. Bingo, presently, is on hold while the sale is going through. The Post continues to serve funerals and support the community and veterans-related celebrations. He hopes Post 428 eventually can get back to a situation where it hosts rallies and conventions, considering the decent hotel space St. Cloud and Waite Park offer.
American Legion Department of Minnesota records show Post 428 was chartered in 1939, though the Post's website says there was an attempt to receive a charter in 1935.
The Post met at another location from 1947 to 1961. That is the year it completed the purchase of the property at Second and Division.
A groundbreaking ceremony was held March 15, 1961.
Since then, adjacent lots were purchased. The building went through remodels, growing from 30-by-110 feet to 110-by-110 feet, allowing it to accommodate 300-plus-person weddings and other banquets.