We recently interviewed Navy veteran, Christine Wendt, about her experience as a member of the Minnesota American Legion and we're excited to share her story with you in her own words:
After watching my cousin struggle from semester to semester to come up with enough money to continue her college education, I joined the U.S. Navy. I also wanted to see the world and get some good training. I didn't know what I wanted to do "when I grew up" but I figured the Navy would help me with that decision. 
When I retired in 2004 from 20 years of active duty, I didn't think about becoming a member of the American Legion. I still had young kids at home and it just wasn't a priority. 
Fast-forward 13 years. 
In 2017, I was a fairly new resident of New Prague and wanted to get involved in the community. I saw in the local newspaper that the American Legion was hosting a silent auction to help raise funds for a Veterans Memorial Park. I called the point of contact and set up a time to drop off some local grocery gift cards for the auction. When I spoke with Linda Dvorak, she told me about an open house they were hosting in the near future and she told me that I should stop by. I did…and the rest is history.
The American Legion isn't just a bunch of old men sitting around a bar, telling stories. I'm hoping to be part of changing this misconception. 
Nationally, the American Legion fights for active military personnel and retired veterans by advocating for and promoting veterans' interests in the legislature. 
I'm also a true believer in the VA medical system. From a woman's perspective, they have really expanded their services to female veterans and are working to support our growing numbers. I have never had an issue with our local VA hospital. They have been nothing but fantastic.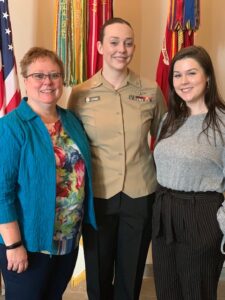 I've been involved in several activities through the Minnesota American Legion. I've worked at the silent auction fundraisers for our veterans park, encouraging people to donate and selling tickets to community members. During COVID-19, we took meals to our first responders to let them know they're appreciated. I'm also proud to say that I'm the first female honor guard member in our post. We present colors at military funerals and participate when a color guard is requested. 
The first year I was involved with the Minnesota American Legion, I focused on attending the monthly meetings and getting to know the post members. By the second year, I wanted to get more involved. The American Legion has done so much and we need to support our veterans, their families and their communities. I learned that we are one of thousands of posts that want to serve in these ways. I've gone from simply being a member of my local post to serving as an active member on the Executive Board. In addition to honor guard, I am a member of the American Legion Auxiliary and hold the Judge Advocate and Adjutant position for Post 45 in New Prague. 
My advice? Find a local post, go to a meeting, ask questions and get involved. If that post isn't the best "fit" for you, find another. We share common goals but we are all a little different. And keep in mind that, maybe what your local post needs is for YOU to participate and make a difference! #joinmnamericanlegion