ST. PAUL — The COVID-19 vaccine does not stop the spreading of the coronavirus. It does stop people from the resulting illness.
"You still have the ability to spread the disease but not get sick from it," said Pat Kelley, director of the Minneapolis VA Health Care System.
This was among comments he made to the Minnesota Commanders Task Force on Jan. 12.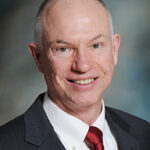 The CTF meets monthly and is a joint legislative effort by nine congressionally chartered veterans organizations. However, it also is a forum where leaders in the veterans care community can talk to several commanders at a single time.
Kelly said there were 20 COVID-19 cases in the Minneapolis VA at the time. He noted it once had been as high as 50. He said the surges make planning difficult, such as scheduling elective surgeries or shifting staff from one area of the building to another.
"We could be like California or Arizona in a month, the way this thing kind of works around the country," he said.
The VA has its outpatient workload back to normal, he said, but inpatient surgeries are down. It had shifted from 10 operating rooms to five. Doctors and nurses normally working in the operating rooms are in the intensive care units.
But that adjustment results in a surgical backlog.
Kelly assured the commanders that surgeries needing to be done are being done. He said another meeting the same day was to look at the next adjustments.
"It's a balancing act," he said.
He predicted Americans still will see masks, screenings, washing hands, social distance and other public health measures for another year.
The Minneapolis VA has vaccinated most of the staff who wanted it, Kelly said. The vaccination effort expanded to veterans on Jan. 13 and throughout the month.
It started with the high-risk groups, then to vets 75 or older, including ones not already enrolled in VA care.
Beginning the weekend of Jan. 23 and 24, the VA spread the word to veterans 75 and older to make an appointment to get vaccinated at the Minneapolis VA hospital, whether or not they were enrolled with the VA.
The shots are administered at the second floor of the Flag Atrium at the Minneapolis VA. Kelly hopes to expand to the community-based outpatient clinics across the region.
"It's a very large effort," Kelly said.
The American Legion Department of Minnesota, through its email capacity, contacted 32,000 veterans about the vaccinations being available.
After a rush, the Minneapolis VA is sending letters notifying enrolled vets about vaccine appointments.