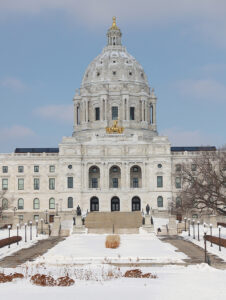 2021 legislative priorities could include: vets courts, tax relief, memorial highway, adult day care
By Tim Engstrom
ST. PAUL — The Department of Minnesota Executive Committee meets March 6 at La Crescent Post 595.
On the agenda will be determining the state legislative priorities for 2021.
The meeting starts at 2 p.m., prior to the annual Appreciation Rally.
The American Legion Department of Minnesota is based in St. Paul at the Veterans Service Building, just across the lawn from the Capitol, and it works to pass legislation on behalf of veterans across the state. It is among the many reasons to become a Legionnaire.
The following are the bills under consideration:
1. Military Veteran Offender Restorative Justice Sentence
SF 116: Chamberlain,
Lino Lakes
HF 478: Feist,
New Brighton
The bill provides uniformity among veterans treatment courts in Minnesota and allows veteran defendants in counties without vets courts to transfer their cases to places with them.
It provides judges with the ability to pursue restorative sentences for veterans facing Level 7 offenses or below but it does not require them to. Judges have the final call.
Most of all, it gets veterans with service-connected trauma, often from combat, to get the VA treatment they need. Good vets courts have a low rate of repeat offenders. Uncle Sam broke them, and it must now fix them.
The American Legion NEC, in 2016 at the Cincinnati Convention, approved a resolution in support of veterans treatment courts.
Other supporters: Violence-Free Minnesota, Minnesota County Attorneys Association, Minnesota Board of Public Defense, Minnesota Department of Veterans Affairs, Minnesota Commanders' Task Force and many nonprofits.
Judges and justices cannot weigh in on legislative matters, but it is widely understood, based on enthusiasm at veterans courts ribbon-cuttings, that they favor this measure.
2. Congressionally Chartered Veterans Organizations Property Tax Exemption
SF259: Lang, Olivia
HF182: Dettmer, Forest Lake
This language calls for reducing property taxes on Legion and VFW Post homes (the buildings) to 0%.
These places are far more than merely the business operations of bars and restaurants. They are places where veterans organizations conduct their business, including ones that don't own the building itself.
The business side is almost always a small area of the entire structure. Business profits go toward the mission of the veterans organization as well as costs of the building itself.
The Legion/VFW halls across Minnesota are meeting places for communities across the state, and losing more of them would hurt the local economies and reduce the charitable good performed out of them.
It is noteworthy that legislators often go to the Posts when they want to meet with a community.
By reducing taxes to zero, it will help save many of these Posts from shutting down their buildings. The cost of the structures will be born by the rest of the tax base, typically with overwhelming favor.
3. Cpl. Caleb L. Erickson Memorial Highway Establishment
SF302: Jasinski, Faribault
HF482: Petersburg, Waseca
This would rename a section of Minnesota Highway 13, from the southern border of Woodville Township to the northern border of Blooming Grove Township in Waseca County, the "Corporal Caleb L. Erickson Memorial Highway."
Signs would be erected north and south of the city of Waseca denoting the name.
Erickson, of Waseca, died in February 2014 when his convoy was attacked by a suicide bomber.
4. Credit for Sponsors of Veterans
SF413: Bakk, Cook
HF485: Ecklund, International Falls
The bill would allow the state to give up to $250,000 per year in tax credits for sponsors of qualifying veterans staying at Veterans on the Lake Resort in the Superior National Forest near Ely.
If passed, this section of law would expire Dec. 31, 2030.
Veterans on the Lake Resort was started as a camp in 1983 for disabled veterans but is open to non-veteran disabled, able-bodied veterans and active military, in addition to group activities.
5. Veterans Adult Day Care Program Authorization
SF93: Lang, Olivia
HF88: Lippert, Northfield
This bill amends state law to authorize adult day care for the Minnesota Veterans Homes.
It is a program that, pre-COVID, the Minneapolis home already was doing and now performs it virtually instead.
The Minnesota Department of Veterans Affairs receives reimbursements from the federal VA for the day care program, in addition to collecting fees from the participants.
Passing this measure simply codifies a program already in existence. The homes, under existing law, are allowed to develop new programs based on appropriate levels of care.
6. Minnesota G.I. Bill Technical Changes
SF92: Anderson, Buffalo
HF585: Sandstede, Hibbing
As it stands, the Minnesota G.I. Bill offers payments to veterans for three types of educational expenses: college tuition, career apprenticeships or licenses and certifications.
The new language clarifies eligibility for each component to avoid confusing the three or misuse of the three.
7. Reduced Fees for Hunting, Trapping and Fishing Licenses for Disabled Veterans
No bills filed
The American Legion Department of Minnesota is working with the Minnesota Department of Natural Resources to reduce the cost of hunting, trapping and fishing licenses for service-connected disabled veterans.
After coming to an agreement with DNR officials, we will urge the Minnesota Legislature to pass a proposal. We feel this likely would give the DNR an net increase in license revenue and give veterans the health benefits that come from the great outdoors.
In 2020 …
The American Legion Department of Minnesota's legislative advocacy was a key player in the passing in October of a one-time transfer of the Homestead Market Value Exclusion.
Disabled American Veterans of Minnesota was a main proponent of the original 2019 bill that eliminated the eight-year cap for surviving spouses on the Homestead Market Value Exclusion. However, a passage regarding a one-time transfer, allowing surviving spouses of disabled veterans to downsize their homes, did not pass that year.
The two organizations worked together to get the language across the finish line in 2020.
The Legion also advocated for funding to repair Minnesota Veterans Homes, among several other pieces of legislation.
In 2021 …
Passing veterans-related legislation this year will require members of The American Legion to call their legislators, said Bob Hart, chair of the Department Legislative Affairs Committee.
"We are going to make sure lawmakers hear our voices, even though we can't approach them at the State Capitol," he said.
Hart and other Legion members this session have monitored and testified on legislation remotely.