By Department Commander Mark Dvorak
I was asked by a Legionnaire the following question: "Why so much emphasis on recruiting new members?"
The answer to this question varies as why a person decides to join our great organization or why some individuals get involved at various levels of The American Legion.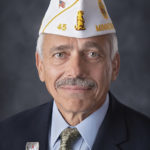 All volunteer organizations not only require an influx of new members, but, also, for those new members to volunteer their time to better the organization. The American Legion is an incredible organization and learning and becoming familiar with a few of our many programs can help explain why you decided to become a Legionnaire or why you became involved in making a difference for our country.
Each year National hosts its Membership Workshop in Indianapolis for all Department leadership teams. This past August it was held virtually and was the 57th annual workshop.
Ron Neff from National is the American Legion National membership engagement coordinator and below are some ideas he shared for recruiting new members.
• Be prepared to answer what this organization will do for them. "We are an organization of givers. We volunteer our time because we believe in the cause. It's not about what we receive but about what we give. Whether it's filling that void or providing that camaraderie, there is something mutual in that relationship that we need to discuss."
• Be confident and knowledgeable about the organization. Take the Legion's Online Basic Training course if you haven't already at legion.org/training.
• Passively recruit. "Most important thing we can do is thank every veteran you see for what they have done for their nation. You can then just ask if they're a member or consider continuing their service by joining. But at the end of the day, it's all about thanking them, it's that Buddy Check."
• Show pride. "Display your pride in the organization by what you wear, what you say and what you display in public. Set the example by demonstrating the highest degree of professionalism and patriotism as it relates to The American Legion."
Approximately 11 years ago when I became the 3rd District adjutant, I was ignorant about the mission and programs that The American Legion was involved in.
At the very first District Convention I attended was in May of that year, I was exposed to many of these programs, such as the District Oratorical Contest winner, Eagle Scout of the Year, Junior Shooting Sports winner, Legion Baseball Player of the Year and Boys State winner. Also, I met the District Police Officer of the Year and Firefighter of the Year, just to name a few.
They were all honored and had a short presentation on what this award meant to them. In July, I attended the Department/State American Legion Convention in Rochester, and presentations for Department/State awardees took place for the same programs. In August I attended the National American Legion Convention in Milwaukee and the same thing happened for the National winners for these awards.
I thought to myself "Wow! This is an incredible organization that I definitely want to be a part of and hopefully be able to make a difference in my own little way."
For God and Country, we continue our mission!
Mark Dvorak is the commander of The American Legion Department of Minnesota.