Opposition exists in chaplain role; other spots remain unopposed
REDWOOD FALLS — The race for commander of the Department of Minnesota will be unchallenged at the annual convention.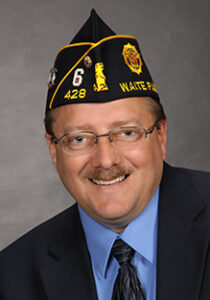 The Department of Minnesota Convention is slated for July 15-17 at Jackpot Junction Casino Hotel and is hosted by Redwood Falls Post 38. Some committees will meet on July 14.
Tom Fernlund is the lone candidate. He is the adjutant and past commander of Silver Star Post 428 in Waite Park. His endorsement published in the Legionnaire last July.
At the National level, Fernlund serves on the Media and Communications Commission. He is a 2007 graduate of the National American Legion College.
On the Department level, he has served as vice commander, membership director and sergeant-at-arms. He presently is the chairman of the Strategic Planning Committee.
In the 6th District, Fernlund has been the commander, adjutant, vice commander, County Council commander and membership director, along with multiple chairmanships.
He served in the Air Force from 1981 to 1992 and is a 29-year honorary life member at Post 428.
His wife, Veronica, is an Air Force veteran and a past commander of the 6th District. They have been married for 32 years and have two sons, two daughters and two grandsons. Three of their children serve in the military.
The election will be held Friday, July 16.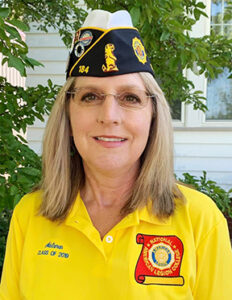 Other candidates are Bill Barbknecht of Underwood Post 489 for National Executive Committeeman, Peggy Moon of Zimmerman Post 560 for alternative National Executive Committeeman, Kelley Adelsman of Pine Island Post 184 and Larry Otto of Ellendale Post 296 for chaplain, Kenny Gibson of Rosetown Post 542 for sergeant-at-arms and Darrel Redepenning for Minnesota Legionnaire Board of Publications.
No one is seeking the historian spot. (A sample ballot appears on Page 14.)
For vice commanders, the ballot will show Gary Weaver of La Crescent Post 595 for Districts 1 & 3, Hal Meyer of Marshall Post 113 for Districts 2 & 7, Ray Eiden of Minneapolis Falldin Post 555 for Districts 4 & 5, Carl Moon of Zimmerman Post 560 for Districts 6 & 9 and Wilbur "Gene" Swanson of West Duluth Post 71 for Districts 8 & 10.
The convention is the annual business meeting of the Department of Minnesota and will include election of officers, the consideration of resolutions, annual reports and other organizational work.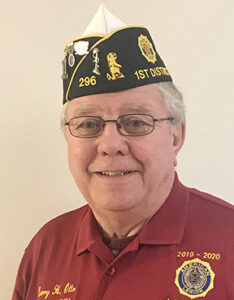 This is the first convention the Department has held in two years, since the one at the Willmar Conference Center in July 2019. The 102nd Convention convenes at 8:30 a.m. Thursday, July 15, though delegates caucus from 7 to 8 that morning.
New Prague Post 45 will present the Department colors.
The Department Executive Committee will meet at 7 p.m. Wednesday, July 14, in the Dacotah Exposition Center. A joint memorial service with the Auxiliary and Sons of The American Legion will be at 11:15 a.m. Thursday.
The Gambling Seminar is at 2 p.m. Thursday in the Dacotah Exposition Center.
MyLegion.org training takes place at 3 p.m. Thursday in Tananka 4.
Some of the speakers are Jason Petti of the VA Midwest Health Care Network, Todd Kemery of the Commanders' Task Force, Greg Peterson of the Minnesota Association of County Veteran Service Officers, Neal Loidolt of the Minnesota Assistance Council for Veterans, Minnesota Veterans Affairs Commissioner Larry Herke and Raymond Douha and Barry Platt of the Minnesota Department of Employment and Economic Development.
Waite Park Post 428 will retire the colors.
When convention-goers arrive, they register. Early registration is available at 4 p.m. Wednesday at the Redwood Falls Post 38 home, 100 Industrial Drive. From Thursday on, registration is at the casino.
Post 38 will serve pulled-pork sandwiches from 4:30 to 8 p.m. Wednesday. It has a taco bar available from 5 to 8 p.m. Thursday. It has burgers and bratwursts for sale from 5 to 8 p.m. Friday and a meet and greet Saturday following the adjournment of the convention.
There will be a shuttle service between Jackpot Junction and Post 38 between 5 and 9 p.m. Thursday and again Friday from 11:30 a.m. to 1:30 p.m. then between 4 and 10 p.m.
The first Department Executive Committee meeting of the new Legion year is at 10 a.m. Aug. 7 at Royalton Post 137.