By Jeremy Wolfsteller
First, as a OIF veteran with two deployments and who worked in burn pits during my first deployment I'd like to say thank you to The American Legion and our partner veteran service organizations for their relentless advocacy pressuring both VA and Congress to establish a presumptive illness list associated with serving in and around open-air burn pits and operating around environmental hazards during deployments to the Middle East.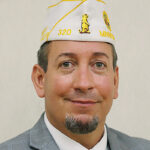 It's time our government recognizes servicemembers have been returning home from their deployments being diagnosed years later with medical conditions associated with environmental exposures. Open-air burn pits are what many Persian Gulf, Iraq and Afghanistan veterans are referencing as the new-era Agent Orange for those who served in the Middle East from 1990 to present.
What I'm referencing here is on Aug. 2, the VA provided the following during a public announcement:
"The Department of Veterans Affairs will begin processing disability claims Aug. 2 for asthma, rhinitis and sinusitis on a presumptive basis based on presumed particulate matter exposures during military service in Southwest Asia and certain other areas — if these conditions manifested within 10 years of a qualifying period of military service."
Now after seven years of VA administering a burn pit registry with over 250,000 veterans reporting the same symptoms and medical conditions and decades from the time service-members started operating in and around open-air burn pits veterans will be compensated.
These conditions VA concluded had significant relationship to the toxins or particulate matter pollution based on their "first iteration of a newly formed internal VA process to review scientific evidence to support rulemaking, resulting in the recommendation to consider creation of new presumptions of service connection for respiratory conditions based on VA's evaluation of a National Academies of Science, Engineering and Medicine report and other evidence."
The VA is starting with respiratory conditions stating that asthma, rhinitis and sinusitis must be chronic in nature and diagnosed within 10 years of a qualifying period of military service. I interpret this to be 10 years from a servicemember's last deployment to Southwest Asia theater of operations beginning Aug. 2, 1990, to present or Afghanistan, Uzbekistan, Syria or Djibouti beginning Sept. 19, 2001, to present.
It's important to note that Southwest Asia theater of operations refers to Iraq, Kuwait, Saudi Arabia, the neutral zone between Iraq and Saudi Arabia, Bahrain, Qatar, the United Arab Emirates, Oman, the Gulf of Aden, the Gulf of Oman, the Persian Gulf, the Arabian Sea, the Red Sea and the airspace above these locations.
This is only the start of VA's environmental hazard presumptive Illness list as Secretary Denis McDonough stated, "VA will continue to use a holistic approach in determining toxic exposure presumptives moving forward."
Veterans and survivors who believe they may be eligible for the newly established presumptive conditions are encouraged to apply through their CVSO or their VSO POA Office. For more information on the new presumptive conditions, visit our website at:
www.publichealth.va.gov/exposures/burnpits/
Jeremy Wolfsteller offices at the Minneapolis VAMC and is the service officer for the Department of Minnesota.