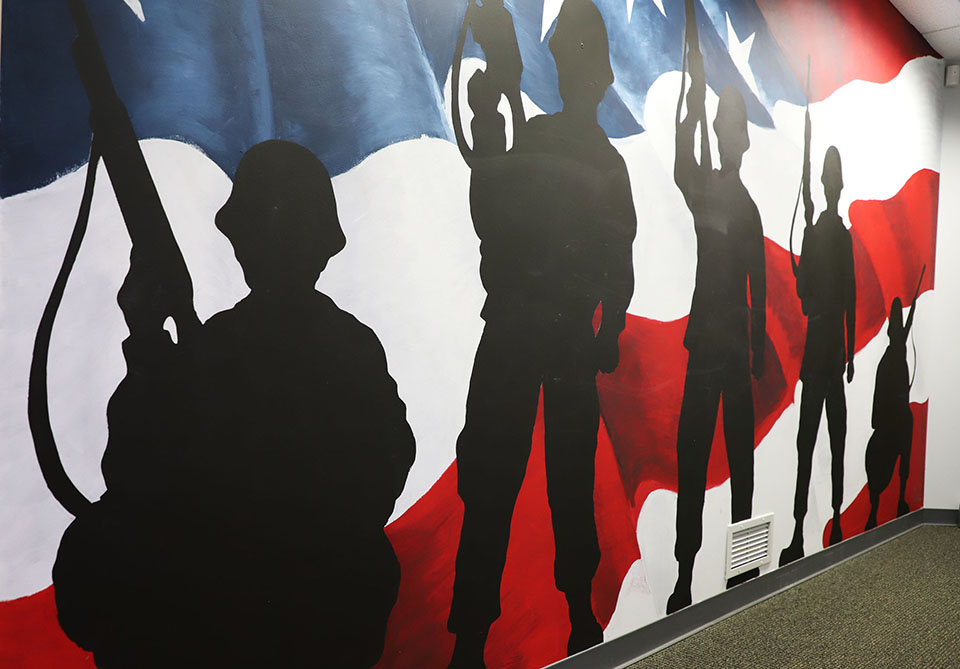 By Tim Engstrom
Tom Mullon recalls working at the Veterans Affairs hospital in Manhattan early in his career and coordinating a meeting of 100 or so Vietnam veterans with hospital leaders.
One by one, the veterans told stories reflecting "the need for the VA to have counseling proper."
The answer they got from the director, no kidding, was: "Shut up. You are all a bunch of crybabies."
Mullon sits on The American Legion's National Veterans Affairs and Rehabilitation Commission and is a retired director of the VA Medical Center in Minneapolis. He told his story Dec. 16 to employees of members of Congress representing Minnesota as part of an effort by The American Legion — and other veterans groups — to push the VA to expand Vet Centers in Minnesota.
As time passed during Mullon's career, the VA and society in general realized war adversely affects veterans in ways not seen on the outside, and they need care for it in ways other than physical care.
Under President Jimmy Carter, the VA got the Vet Center programs going to provide help without all the paperwork and waiting of the standard VA system. Then in the 1980s, the Reagan administration wanted to get rid of them, Mullon said.
"I thought, 'Why? They are doing what they should be doing," he told the congressional staff members last month.
The Diagnostic and Statistical Manual of Mental Disorders, Third Edition (DSM-III), published in 1980, and for the first time it recognized post-traumatic stress disorder as an effect of surviving war. There was movement to recognize that Vietnam veterans had more than merely "shellshock" and "combat fatigue."
Mullon, a former Vietnam War medic, and others fought to save the Vet Centers through temporary reprieve legislation, and they were successful.
Today, there are about 300 Veteran Centers in all 50 states, and they provide readjustment counseling to veterans and their families. The counseling covers a wide gamut, from bereavement to substance abuse assessments to dealing with sexual trauma, among other situations.
"Anyone can walk in and get care, including active duty. There aren't all these boxes to check and paperwork to clear," he said. "I've got all kinds of evidence that shows it works. It works."
Legion member from Sartell and Vietnam-era veteran Phil Ringstrom for years has lobbied for the expansion in Minnesota, particularly in western Minnesota. Presently, there are three: Duluth, Brooklyn Park and New Brighton. The one in New Brighton, it should be noted, has plans to return in St. Paul. The state also has a fourth, termed a "Mobile Vet Center."
Ringstrom saw a steady stream of veterans struggling with PTSD during his career with the VA. He shared a Legion-compiled document showing how Minnesota is among states lacking an adequate presence of Vet Centers. It has one per 136,000 veterans. States such as Massachusetts, relatively close in veteran population to Minnesota, has one per 63,000 veterans. Maryland has one per 54,000. Colorado has one per 61,000 veterans. Wisconsin, adding two, is one per 89,000.
Virginia is the only state with a worse concentration than Minnesota, according to Ringstrom's numbers.
What's the difference? Why do some states get more than others? Mullon and Ringstrom said it all comes down to pressure on the VA. It has the funding within its budget to expand Vet Centers, but by Minnesota — from the elected officials in halls of Congress to the local veterans — putting pressure on the VA, that money can be spent here.
"The VA operates on the basis of being pushed," he said.
Ringstrom said Vet Centers are separate from the medical centers, in location and funding, and they are great for prevention. He has lobbied for one in Bemidji, St. Cloud and Mankato.
He also says they provide relief to overworked staff at the St. Cloud VA Medical Center.
The congressional staff members said they could take the matter back to their senators and representatives and ask to draft a letter to be signed.