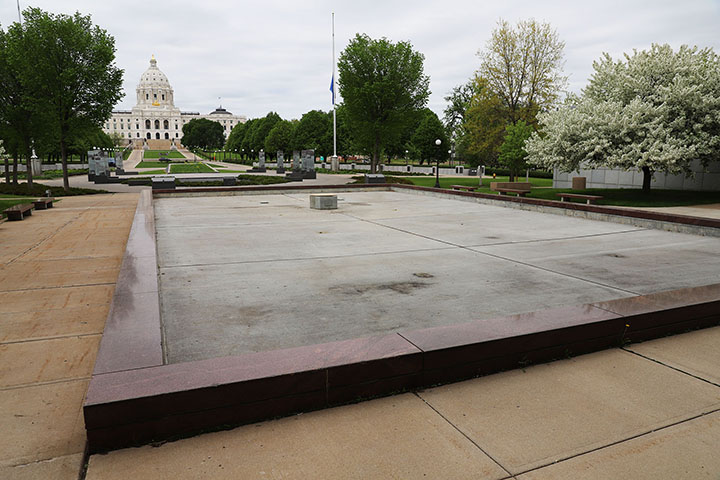 By Tim Engstrom
ST. PAUL — There were only three pieces of veterans-related legislation that passed out of the unusual 2020 legislative session.
One was $6.2 million in COVID-19 Disaster Relief and Special Needs Grants for Minnesota Veterans. The Minnesota Department of Veterans Affairs is processing applications and issuing grants of $1,000 and $3,000.
Veterans financially impacted by COVID-19 restrictions can seek assistance at minnesotaveteran.org/covidrelief.
The second was through the Legacy bill — $250,000 for the Minnesota Medal of Honor Memorial. The bill refers to the 2008 Legacy Amendment, which set up a stream of funding for arts, culture, clean water, outdoors, parks and trails.
The Legislature approved the Minnesota Medal of Honor Memorial in 2016, and it is planned for the Promise of Youth statue on the Capitol-facing side of the Veterans Service Building in St. Paul.
The third was veterans-related but also for the general population. It involves increased pay for personal-care attendants.
Still more veterans-related funding could come via the bonding bill during a much-discussed special session that would begin this month. The reopening of the Minnesota economy had been expected to aide Posts struggling with the shutdown, until Gov. Tim Walz announced dining was outdoors-only.
Special session
The Minnesota Legislature convened Feb. 11 to May 18, and when COVID-19 restrictions on gatherings began in March, the Legislature spent five weeks figuring out how to operate virtually. Yes, phone calls and other discussions still took place, but that was five weeks without hearings on legislation.
When the deadline arrived, political parties were at odds over Gov. Tim Walz's emergency powers and the bonding bill. The House had a $2 billion bill, while the Senate had one just shy of $1 billion.
It is expected Gov. Tim Walz will call for a special session starting June 12.
In the bonding bill, the Minnesota Department of Veterans Affairs requested $10 million for asset preservation for its 64 buildings, $4.2 million for security upgrades and $100,000 for completing a greenhouse at the Fergus Falls Veterans Home.
"The bonding money for the veterans homes has to get done," said Trent Dilks, adjutant for Minnesota's Disabled American Veterans. "These are the highest-level needs."
Both bonding bills included $300,000 for the Martin County Veterans Memorial, as a local request.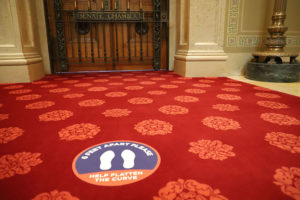 Session reaction
Robert Hart, legislative director for The American Legion Department of Minnesota, said he was frustrated that lawmakers didn't take the time to listen to constituents.
"This is the second year in a row where there's been virtually no input by anyone because they haven't had a lot of input by anyone," Hart said. "That's not the way it is supposed to work."
Hart noted all constituents, not merely veterans, lacked access to their lawmakers.
He said COVID-19 impacted access and last year decisions happened in backrooms.
Tommy Johnson, legislative officer for the Veterans of Foreign Wars, said lawmakers wanted to save money after the budget forecast tanked as a result of COVID-19. He said constituents had practical answers but could not reach legislators.
"They need to show us that Minnesota still cares about its veterans," he said.
The Minnesota Commanders' Task Force has invited five legislative leaders — Senate Majority Leader Paul Gazelka, Senate Minority Leader Susan Kent, House Speaker Melissa Hortman, House Majority Leader Ryan Winkler and House Minority Leader Kurt Daudt — to a video conference slated for 10 a.m. June 16.
Todd Kemery, chairman of the CTF and vice president of the Minnesota chapter of Paralyzed Veterans of America, said he was disappointed in the lack of action.
"For several weeks there, they were like everyone else: How are we going to do this? And then they had to play catch-up," he said.
He said everyone has to learn to reach lawmakers electronically for the time being.
Dilks said he was disappointed that circumstances out of the anyone's control created an inability to get laws passed.
"I do think there is something to learn from it, and it shows us we [the CTF] need to be better organized and have a more coherent strategy," he said.
Minnesota American Legion Commander Mark Dvorak said the session started well, but COVID-19 created confusion and reduced time to educate lawmakers about veterans-related legislation. He looks forward to the June 16 videoconference.
He said he hopes the CTF bounces back stronger next year.
"With a lot of leadership in place for a second year, that will help," Dvorak said.
Expanding veterans courts
The Minnesota Department of Veterans Affairs and the Minnesota Commanders' Task Force had this one on both their agendas for the 2020 session.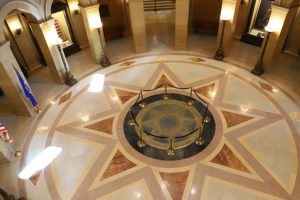 Called Veterans Restorative Justice Act or "presentence supervision," it allows judges to withhold pleas and assign help for veterans facing criminal behavior that can be connected to combat and other service-based trauma. It exists in some parts of the state as a pilot program, starting back in 2008. The MDVA and CTF want it all across Minnesota.
MDVA Legislative Director Ben Johnson said the Senate Judiciary Committee never heard the bill, which would have been a last stop before a potential floor vote. It cleared the Senate Veterans Affairs Committee.
The House passed it out of committee but did not vote for it on the floor.
"It was a relatively bipartisan bill," Johnson said. "And hopefully the ground work has been laid so that we can get it across the finish line next year."
Johnson felt the author, state Rep. Rob Ecklund, made the bill his priority and sought to gain support from leadership.
The VFW's Tommy Johnson said some lawmakers failed to understand the measure saves money. Putting people in prison drains state coffers, while getting them on the path to lifelong careers and families contributes to society.
"One would think a bill that helps wounded veterans and saves taxpayers money would be a slam-dunk done deal," he said. "One would be incorrect."
Both the VFW and The American Legion sought to meet with Senate Majority Leader Paul Gazelka about the measure in the weeks before the Legislature's May 18 deadline, but they could not get responses from his staff.
Chad Solheid, commander of the Minnesota VFW, said Gazelka promised him before the session the bill would get a hearing this year. He called it a broken promise.
In the 2019 session, the bill almost reached the finish line. It made it to a joint conference committee of both chambers but failed. The video clip shows lawmakers didn't grasp it saves money. They called for more information.
In conference committee, both House and Senate members must have majorities. The House side voted 4-0 in favor, with one abstaining. The Senate 4-1 against.
The votes in favor were Reps. Mike Nelson, Raymond Dehn, Rob Ecklund, Mike Freiberg and Sen. Jim Carlson. The opposing votes came from Sens. Mary Kiffmeyer, Bruce Anderson, Mark Koran and Andrew Mathews. Rep. Debra Kiel abstained.
Reopening restaurants, bars
American Legion Department of Minnesota Adjutant Mike Maxa said he appreciates the efforts made by Gazelka and legislators to make re-opening the economy a priority.
"These Posts are run by a volunteer force, and they don't have huge reserves," Maxa said. "To stay closed for three months, the chances of losing the Post increases daily."
On May 20, Walz issued guidelines that had outside-seating-only starting June 1, which was far more restrictive than the business community and veterans organizations had expected. Outcry ensued statewide. Commanders of the Legion and VFW both penned open letters to the governor, telling him they were disappointed in his decision and called on him to reconsider the opening criteria.
Dvorak said further efforts to open Posts are underway.
MDVA policy bills
The MDVA had requested authorization to operate an adult day center and dental clinics, along with clarifying language in the Minnesota G.I. Bill. The clarification involved eligibility requirements to avoid confusing or misusing tuition, apprenticeships and certifications.
Those measures were ready for final votes on the floors of both chambers but never received votes. The MDVA's Ben Johnson said they didn't face opposition, but the shortened window of time left them hanging.
A pre-session proposal to permit the MDVA to employ a public-relations agency never gained traction, Johnson said. This idea was floated to help the MDVA span the distances between five state veterans homes and to better connect with the local media.
MDVA supplemental budget request
The agency asked the Legislature for $1 million in this fiscal biennium and $1.2 million for the next for preventing suicide among veterans. The MDVA wanted to hire a coordinator and liaison with the goal of developing a model for suicide prevention efforts and work in line with federal VA efforts.
It also sought $3.17 million this biennium and $6.33 in the next to fund 150 housing vouchers for veterans who do not qualify for the HUD-VASH vouchers (issued by federal Housing and Urban Development and the VA).
Johnson said these measures were introduced but received no hearings because the budget projections after the COVID-19 economic shutdown turned dour.
He said housing and mental health of veterans remain priorities for Minnesota Veterans Affairs Commissioner Larry Herke.
Amend the exclusion
The 2019 session eliminated the eight-year cap for surviving spouses on the Homestead Market Value Exclusion, making it permanent. The CTF this year was hoping lawmakers would tweak it so widows and widowers could to a one-time transfer to a property of similar or lesser value, allowing them to live in a more manageable-size home.
The CTF garnered support from cities and counties, as they would get tax value from houses returning to the market at full value.
Johnson said the measure didn't move because the Legislature shifted its focus to the pandemic.
"It was a casualty of the COVID session," he said. "There wasn't the bandwidth to consider things like that."
Hunting, trapping, fishing
Minnesota American Legion Adjutant Mike Maxa, Disabled American Veterans Adjutant Trent Dilks and Johnson met with the Department of Natural Resources to talk about reducing the cost of hunting, trapping and fishing licenses for service-connected disabled veterans.
The DNR wants to review the discounts this summer and be ready for the 2021 session.
"The groundwork is being laid for possible action next year," Johnson said.
Preference for homeless
The CTF approved its legislative plans in December, and at the time called for giving preference to homeless veterans in state-funded housing programs.
The VFW's Tommy Johnson said no legislator wanted to write the bill.
"Nobody wanted to pick a fight with the state of Hennepin County," he said.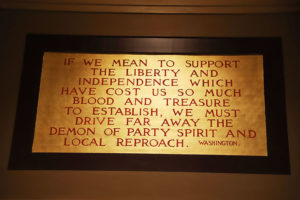 Hourly wage for PCAs
The CTF in December called for increasing the state-minimum hourly wage for personal care attendants and to allow for a state-recognized certificate of training. Their average hourly wage is $11.34, which is $2.18 above the poverty line and $6 below the livable wage of $16.34, according to the Minnesota Department of Employment and Economic Development.
The PCA pay received an across-the-board temporary pay increase of 15 percent as part of the state's emergency funding for COVID-19.
"They are just as front line as everybody else," Kemery said. "They are going house to house, showering and feeding. It's a hands-on process. We can't stop that. People have to be able to get out of bed in the morning."
The temporary bump in pay begins July 1 and ends Jan. 1.
Medal of Honor Memorial
The Veterans Service Building and the Promise of Youth statue were built after World War II. The statue's reflecting pool does not operate as intended. Over the years, the artwork often has been misunderstood, because it exists amid monuments about wars and veterans. The Medal of Honor Memorial returns the sculpture's reflecting pool to operational status and returns meaning to the statue.
Here is what the Medal of Honor Memorial's website states: "A Medal of Honor Memorial within the footprint of the Promise of Youth reflecting pool would clearly and meaningfully convey the intended function of the Promise of Youth element that veterans in securing and maintaining our rights and freedoms have provided our youth with the means to fulfill the dreams and aspirations of all Americans."
The $250,000 was approved in 2016, but it hadn't been spent within a two-year window while private fundraising occurred, so it got nixed. The memorial committee asked Commissioner Herke for assistance, and he stepped in to secure the funding.
The committee has raised $714,000 of its $750,000 goal, but that goal could change based on memorial construction bids. The website is minnesotamedalofhonormemorial.org.