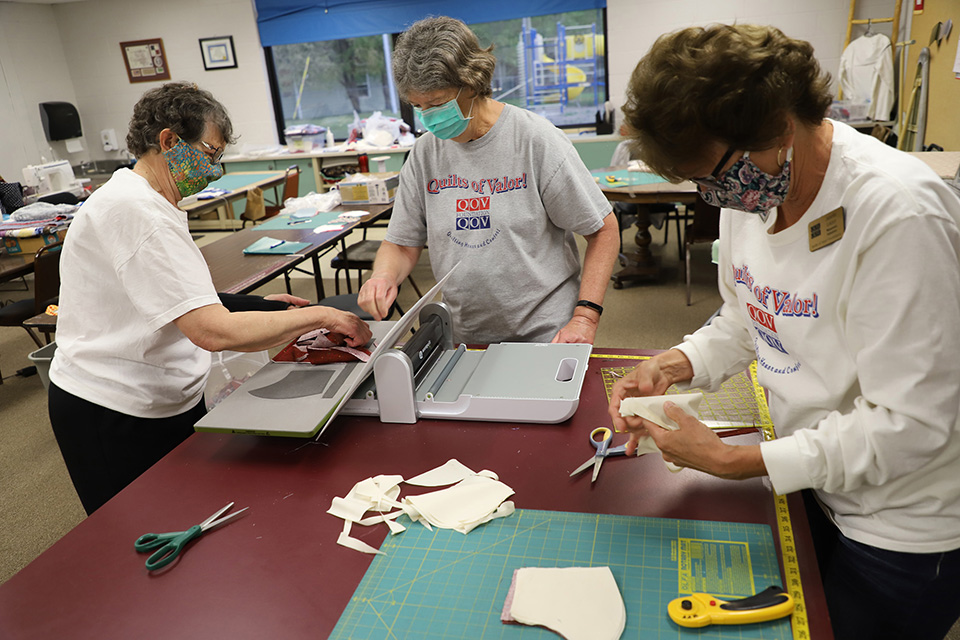 Masks … on the double!
DENT — Five thousand four hundred masks.
From a partnership between Quilts of Valor and The American Legion.
For veterans and staff at VA hospitals and state veteran homes.
All made by a dedicated group of quilters.
This is patriotism in action during the age of COVID-19.
Quilts of Valor members award quilts to veterans "touched by war," but when it began in 2004, the quilts went to veterans who experienced combat in the Global War on Terror. That morphed over time to GWOT veterans wounded physically or psychologically. Then to any war. Then to its present phrase "touched by war."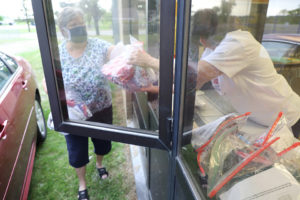 The state coordinator for Quilts of Valor is Jenny Caughey, and she is one of 33 members of the Dent-based group of quilters, and they call themselves Comfort for Courage. Dent is about 10 miles away from Perham, and the members are from around those towns. They work closely with two other Quilts of Valor groups in the area: Fergus Falls and Maine Township.
Fergus has about 80 quilters and calls itself Caring Hearts. Maine has a little more than 20 and goes by Loving Hands.
Like many quilters, they aren't ones to tout their story. They create and give and create and give and create and give some more, because the two actions make them feel good inside. It's not about getting ink in the newspaper or the attention of the community.
But Caughey is a big advocate for her dedicated volunteers and she told a brief history of the Comfort for Courage group of women.
By 2008, they had created and given quilts to many of the qualifying veterans in their area. They contacted Andy Riewer, whose brother, Greg, of Frazee, died at age 30 while on patrol in Fallujah during the Iraq War. He was a sergeant with the Minnesota National Guard. His unit was from Bemidji.
They asked Andy where the wounded soldiers from Minnesota go? He told them many go to Fort Knox, Kentucky. So the women sent quilts there.
By January 2010, Fort Knox invited the women to award the quilts in person. American Legion Post 489 in Underwood got word of the trip, and its members began raising funds so the quilters could charter a motorcoach bus.
Forty quilters left in May 2010 for Kentucky with 612 quilts. They were gone five days and were hosted by Legion Posts all the way.
"When I say we were escorted, honestly, I say the quilts were," Caughey said. "This was never about us."
They stopped at quilt shops on the way back and got more fabric to begin making more quilts.
Since then, the quilters have been to Fort Riley, Fort Campbell, Fort Hood, Fort Sam Houston, Fort Bragg and back to Fort Knox.
"None of this would have been possible without the support we got from the Legion," Caughey said.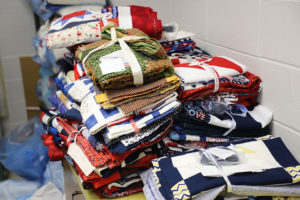 Mary Ann Strauch of Richville noted the quilters on the trip had to pay out of pocket, too.
"We were all responsible for own hotels and any meals not provided by the Posts," she said.
They had fun, to be sure.
Outside Fort Knox, the women stopped at Elizabethtown Post 113. The commander told them the bar and restaurant are open and they can order whatever they like.
"That's the kind of hospitality we've gotten from the Legion everywhere," Caughey said.
She has stories of Nebraska, Misssouri and other places where Legion kindness was evident.
The Minnesota American Legion Foundation spearheaded the endeavor of making masks. Foundation President Lloyd Ricker, a Vietnam veteran and former Department commander out of Dawson, told Caughey masks were needed at VA hospitals and state veteran homes and asked if her team could make them.
"I said you tell me what you need, and we'll get it done," Caughey said.
Ricker said it is a good cause. He said he learned about the quilters not being able to present quilts because of COVID-19 through a conversation with NECman Bill Barbknecht of the Underwood Post. The Foundation donated $1,000, and the Quilts of Valor make masks on behalf of The American Legion.
The money purchased an AccuQuilt cutter, dyes and fabric for the effort.
Ricker said Posts can donate further assistance, including gambling revenue, to Fund 85. It can help the women buy more fabric for more masks.
Quilts of Valor created 5,400 masks as of June 22.
No one who made those masks is younger than 60 years old.
"We're all arthritic and farsighted," Caughey said. "Hand-cutting 4,000 masks was just not going to happen. This has enabled us to get the job done."
Dent Auxiliary Unit 148 purchased $300 of fabric, which went toward about 600 or 700 masks. The rest came from donations of Quilts of Valor members.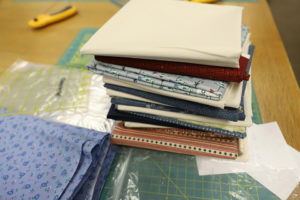 The masks were donated to the five Minnesota Veterans Homes (Fergus Falls, Luverne, Hastings, Silver Bay and Minneapolis) and four VA hospitals (Minneapolis, St. Cloud, Fargo and Sioux Falls).
The quilts are delivered via a volunteer transportation network coordinated by Randy Olson, a Legion member from Winnebago in the 2nd District and a member of the Department of Minnesota's COVID-19 Committee. He works with Legion members across the state. In the Dent area, the quilters have turned them over to Barbknecht or Paul Edwards of Nisswa Post 627. Edwards is the 6th District commander. Jim Scott, commander of Dent Post 148, also has transported masks and so has KLN Brands retiree Wayne Caughey, husband of Jenny.
Either they go the whole way or they shuttle the masks to another Legion member partway, who then takes them to where they are needed. Edwards fitted 1,000 into the saddle bags of his motorcycle by vacuum-packing them, Caughey said.
The quilters work out of two rooms in the Dent Community Center, a former elementary school. The building kind of has two fronts. One side faces a street, and the other faces a highway. And on the highway side, the people dropping off materials or masks made at home can use a drive-up window, rather than come indoors, because of COVID-19 restrictions.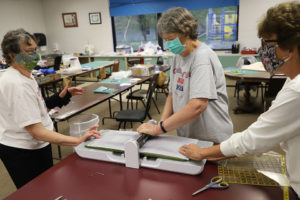 Quilting has been curtailed. When Quilts of Valor awards a quilt, the members wrap the veteran in it.
"It's tough to do that from 6 feet away," Caughey said.
Dent resident Debra Larsen, whom Caughey said is "the brains of this outfit," said awarding a quilt wouldn't be the same from far apart.
"It holds the same meaning for them or us," she said.
Caughey said the quilters in Dent, Fergus Falls and Maine are all tight about spending money and using fabric. Even the small scraps get used in pillows given to a kennel in Detroit Lakes for training service dogs.
"Really nothing goes to waste," she said.
Caughey said she became involved during the post-9/11 wars. She had a bumper sticker that said "I support the troops."
"But I wasn't doing anything," she said. "Support should be an action verb."
So she joined Quilts of Valor. She said if the small gesture of comfort of a quilt offsets any amount of anxiety from the battlefield, then it is worth it.
Larsen said she joined because Vietnam veterans were treated poorly when they returned to the United States. Her grandson was in Afghanistan, and she wanted to ensure he and other military members were welcomed home.
Strauch said she was the head chef at the Perham Lakeside Golf Club on Little Pine Lake. She had always been a sewer (the dictionary's second definition of that word is "one who sews.") She knew many of the quilters from the golf course. Her son was in the Marines for six years and a daughter was in the Air Force for 20 years. So she joined.
Janelle Lotzer, a Comfort for Courage member from Vergas, said her father and stepdad were in the Army in Korea and the Legion. Her mother was in the Auxiliary. When she moved to the area, she was looking to do quilting.
"I think this is something I would like to do and help give back and forward on," she said.
She likes the awarding presentation.
"You really feel that heartwarming feeling inside, where you present that quilt to someone who has given us that freedom."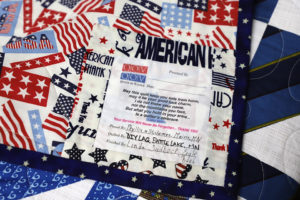 "I cry at all of them," Larsen said. "I still cry. A lot of veterans cry, too."
A Vietnam veteran touched her heart when he told her Quilts of Valor volunteers were the first people to say thanks for serving.
Early on, when a Quilts of Valor group begins, the volunteers want to make sure their relatives and combat veterans in the community get a quilt. After that, they pursue strangers, often the wounded vets.
"You only do one or two awards and the mindset shifts to gratitude for each and every veteran," Caughey said.
Vietnam vets, she said, went a generation without thanks, until the public opinion shifted to gratitude during the Persian Gulf War and again after the 9/11 attacks.
Paulette Hoebelheinrich of the Fergus Falls group joined after hearing Caughey speak to a quilting guild in 2007. She helped start the Fergus Falls one in October 2007. She has a son with 21 years in the Army and Army Reserve and Air Force who has served in the Middle East.
"I've always been a patriotic mom," she said.