National Executive Committee spells out rules for $1,000 grants
INDIANAPOLIS — At the Fall Meeting, the National Executive Committee of The American Legion approved the Mission Blue Post Assistance Program.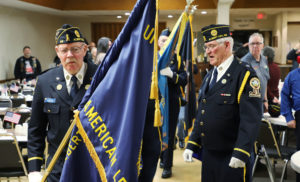 Posts impacted by a government's public health restrictions implemented in response to the COVID-19 pandemic may apply for a grant up to $1,000. Posts must meet the following eligibility criteria:
• A Post must have a current consolidated post report on file.
• A Post must have filed an IRS 990 within the prescribed due date.
• A Post must have filed all other required forms and reports as prescribed by the Departments. (Example: Officer Reports.)
• A Post must have actively participated in one or more The American Legion activity within the last 18 months. (Example: Memorial, Veterans Day, Honor/Color Guard duties.)
• A Post must have a financial need.
• A Post must provide a certificate of insurance naming The American National Headquarters as an additional insured (copy of insurance declaration will be attached to application).
• A Post must provide documentation indicating that the Post is properly incorporated.
The funds from this grant program shall be used exclusively for one of the following:
• Current and past due mortgage principal and interest.
• Current and past due real estate rents.
• Current and past due insurance premiums.
• Current and past due utilities.
Send the completed Post application package to the Department of Minnesota for review and approval. The Department of Minnesota will forward the application to National.
Email is the preferred method to submit the completed application. Send it to mmaxa@mnlegion.org.
Adjutant Mike Maxa said the Department of Minnesota has received six applications with three being approved. The other three, the Department is waiting on correct documentation before the Department can approve and submit to National. Feel free to contact the Department of Minnesota for assistance and to answer any questions.