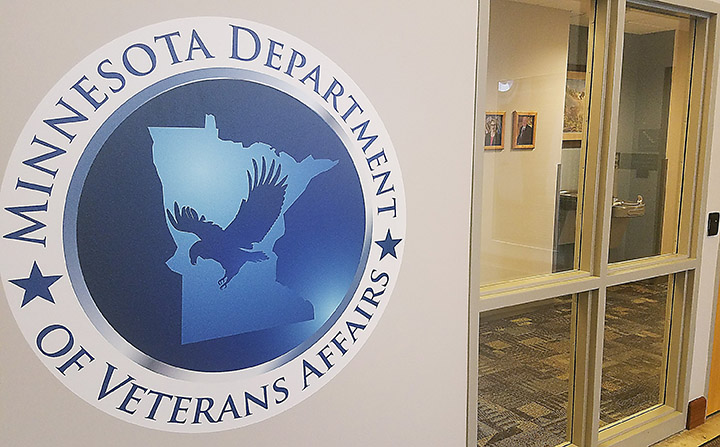 ST. PAUL — Minnesota is among seven states selected for a national effort to eliminate veteran death by suicide.
The Minnesota Department of Veterans Affairs is partnering with the U.S. Department of Veterans Affairs, Veterans Health Administration and the Substance Abuse and Mental Health Services Administration in what's called the Governor's Challenge to Prevent Suicide Among Service Members, Veterans and their Families.
Death by suicide has claimed more than 100 Minnesota Veteran lives per year during the past five years.
"As a member of the Army National Guard for 24 years, suicide in our veteran community is a tragedy that I take personally," said Gov. Tim Walz. "Those who raise their hand to serve our country deserve the best care and services our nation and state can provide. We must work together to provide veterans with immediate access to quality, culturally competent mental healthcare and make bipartisan progress toward eliminating veteran suicide entirely. Minnesota can — and will — lead on veteran issues."
To support the success of this initiative, Walz has directed multiple state agencies — including the Minnesota Departments of Veterans Affairs, Military Affairs, Higher Education, Human Services, Health and Agriculture — to prioritize this effort and work collaboratively along with other state, federal and local partners. The Minnesota Department of Veterans Affairs will serve as the coordinator of the efforts.
MDVA is identifying additional Governor's Challenge participants from other State agencies as well as other federal and local partners.
"We are confident that using a collaborative approach — like our work to end veteran homelessness — will position us to make a similarly positive impact in the area of preventing veteran suicide," said Larry Herke, MDVA commissioner.
Added Maj. Gen. Jon Jensen: "The Minnesota National Guard is encouraged by this collaborative effort, under Governor Walz' 'One Minnesota' approach, to ending veteran suicide. We look forward to participating in the Governor's Challenge to end veterans' death by suicide. One veteran suicide is one too many."
"Eliminating veteran suicide is a goal all Minnesotans should embrace," said Minnesota Department of Human Services Commissioner Jodi Harpstead. "We need the right behavioral health services across the state — from crisis to clinics to chemical dependency — so that veterans get the help they need."
Expertise from other state agencies will prove invaluable. The Minnesota Department of Health has led suicide prevention and education initiatives among all Minnesota populations for many years, and the Department of Agriculture has more recently provided suicide awareness and prevention training in rural communities in response to an increase in suicide among farmers.
"Through our work with farm suicide prevention, we've learned that asking questions and changing attitudes about discussing suicide are important steps in preventing it," MDA Commissioner Thom Petersen said. "We're glad to contribute to this important effort to give people tools they can use to help prevent suicides among our state's veterans."
Minnesota will be one of seven states taking part in the 2020 Governor's Challenge and working to implement state-wide suicide prevention best practices for servicemembers, veterans and their families using a public health approach. SAMHSA will provide technical assistance for this initiative.
The work has already begun. Veteran Suicide Prevention Training is underway for all MDVA employees, many of whom have daily interactions with Minnesota Veterans.
Media welcome to attend
In preparation for national SAMHSA Academy training, the first meeting of the Minnesota Governor's Challenge Team will take place 8:30 a.m. to 4 p.m. Thursday, March 5, and 8:30 a.m. to noon Friday, March 6, at the Minneapolis Veterans Home, 5101 Minnehaha Ave.
The agenda includes:
Overview presentation of the Governor's Challenge Process, the SMVF TA Center, and Technical Assistance by Jasmin Brandow, SMVF TA Center
Overview of history of veteran suicide and goals by MDVA leadership
SWOT analysis
Gap analysis
This session will lay the groundwork for the full SAMHSA training scheduled for late March. At that session, Governor's Challenge planning teams will begin to develop a strategic action plan to prevent and reduce Veteran death by suicide and define and develop measurable outcomes to determine success of the programs.