By Mark Dvorak
Greetings, Minnesota American Legion Family.
This article will contain a few thank-yous and comments about membership.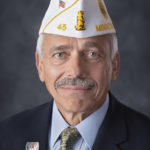 First and foremost, a big thanks to our national commander, James W. "Bill" Oxford, and his aide, Larry Cline, for visiting our Department of Minnesota.
The only Legion position he ran for was district commander. All other positions he has held in The American Legion, including national commander, he was asked if he would consider running for those positions.
Traveling with our national commander, it became obvious to me of his tremendous leadership ability. Commander Oxford's basic message was the following: As he travels to foreign countries, the respect he and his aide receive are equivalent to a head of state or an important dignitary. The respect for our American Legion by the leaders of these foreign countries is second-to-none!
The American dream is alive and well; he came from a poor, humble background growing up dirt poor in North Carolina to become The American Legion's national commander. He emphasized how important our Americanism and Children and Youth programs are to the future of our country.
"We are influencing the youth of our country and creating our future leaders through our many programs such as Oratorical, Legion Baseball, Boys State, Boys Nation, Girls State, Girls Nation and Junior Shooting Sports, just to name a few."
Also, he mentioned that it takes members to continue to run our many programs, and we all need to be involved with recruiting and signing up new members.
Thank you to the following posts for hosting our national commander: Adams Post 146, Waseca Post 228, Albert Lea Post 56, Wells Post 210, Madelia Post 19, Redwood Falls Post 38, Gaylord Post 433, Mankato Post 11 and New Prague Post 45.
The hospitality shown by our American Legion Family was wonderful and inspiring. You made me proud to be your department commander!
Now, a few comments about membership. We are doing well as a Department; currently Minnesota is in sixth place and is at 89.58 percent. The 90 percent target date is March 11, and all membership needs to be into the Department by noon on March 10. March 11 is also our cutoff date for our Big Twelve competition, if we can achieve 90.2 percent, our Department will receive $2,500 for computer equipment from National.
I'm asking Department leadership, District leadership and Posts to work together and personally contact all expired Post memberships and Post 1982s, special emphasis on the expired 1982s as they will count as a new member. If a Post has a question about how to access MyLegion.org in order to get their Post 1982s, please check with your District leadership.
Let's all work together and get this done!
My final thank-yous are to the following: Department Adjutant Mike Maxa, Department Communication Director Tim Engstrom and Department Membership Director Sy Fix. You are all true professionals and did an amazing job representing the Department of Minnesota American Legion during our travels with The American Legion national commander! God bless America, God bless our American Legion Family!
Mark Dvorak is the commander of The American Legion Department of Minnesota.