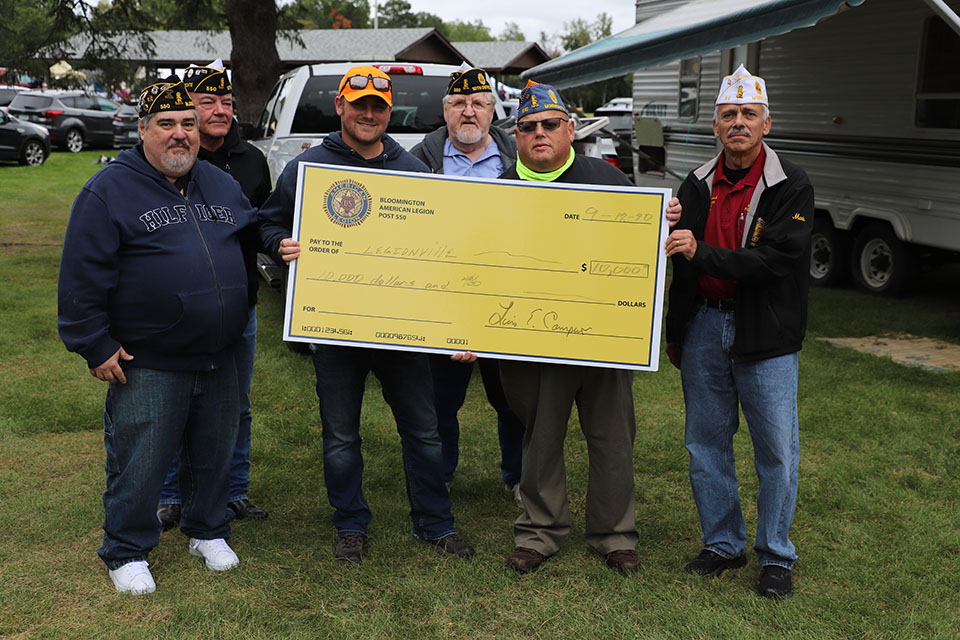 It was a big day for check passing
By Tim Engstrom
BRAINERD — The 2020 Legionville Camporee had some big checks being passed around.
For one, the 10th District American Legion Riders raised $30,000 for the Legacy Scholarship Fund, all in one weekend ride, Aug. 22-23.
"You raise more money in your district than most states do," said National Executive Committeeman Bill Barbknecht.
For two, Bloomington Post 550 donated $10,000 to Legionville School Safety Patrol Camp. And they used one of those giant checks.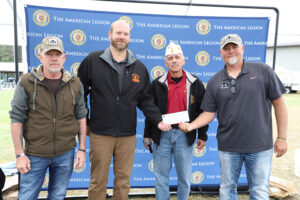 "Let's get it cleaned up and get campers back in here," said Sons of The American Legion Detachment of Minnesota Commander Dave Vulcan.
And American Legion Department of Minnesota Commander Mark Dvorak handed a check for $11,973 to Wounded Warriors Guide Services, which provides outdoor hunting and fishing therapy to veterans with service-connected disabilities. It was part of his Commander's Project for the past year. (The other was Legionville: $3,991, given in July.)
"We are grateful for The American Legion, and it's support," said Wounded Warriors Guide Services President Justin Lightfoot.
The Camporee, Sept. 10-13, brought Legion Family members, and their families, to the 610-acre campground on the south shore of North Long Lake about five miles north of Brainerd. Funds raised benefited the camp. Fun benefited the participants.
More than $13,000 was raised for Legionville (including the Post 550 donation) during the Camporee.
Vulcan welcomed the audience to the Harvest Rally, held on the Saturday of the Camporee. The meeting was held with cloudy skies under canopies because of the COVID-19 restrictions.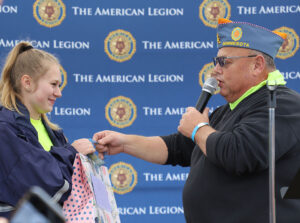 "My heart is full of love because you are all here," he said.
SAL National Commander Clint Bolt was to attend the Fall Conference, Oct. 22-24, at Breezy Point Resort, but his plans were canceled because of COVID-19.
Vulcan said $16,000 has been raised to repair the ceiling of the dining hall at Legionville. The work should be completed this fall. He said his Commander's Project is Legionville: 1. Fix the Bauer Cabin. 2. Fix the Main House.
Dvorak described how busy Legion members have been, from delivering masks to Minnesota Veterans Homes to feeding people in their communities to raising funds for scholarships to paying homage to victims of the 9/11 attacks.
"I thank you for all the volunteer work you've done," he said.
Thanks to the work of the ad hoc COVID-19 Committee and the Membership Committee, the districts all have Zoom video conferencing. Dvorak urged districts to carry on the work of the Legion.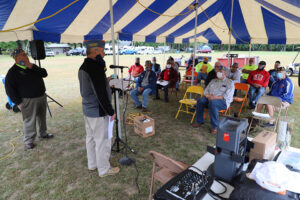 He described a statement the Department of Minnesota sent to the Minnesota Vikings and to newspapers statewide, saying that the national anthem is no time for political protests. (p. 11)
"We're all veterans. We're a patriotic organization, and we don't like it," he said.
American Legion Riders Department of Minnesota Director Paul Hassing said 10th District Ride Captain Matt Berens put together a great ride and 10th District ALR Director Linda Deschene did a good job.
He urged American Legion Post commanders to know their Riders program and vice versa. Don't just say they do their own thing.
"Some American Legion Riders forget they are a Post program. Some Posts forget American Legion Riders is a program. It goes both ways," he said.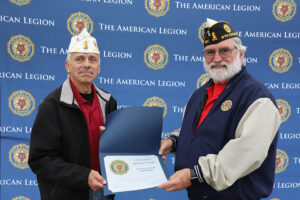 He said Austin Post 91 Legion Riders deserve attention for raising $7,000 for nursing scholarships on Aug. 29.
Barbknecht said dwindling patriotism in America is everyone's fault. He said reaching out and educating people is important. He urged members to prompt schools to hold Veterans Day ceremonies, even if they must be outdoors.
He said, with it being an election year, be sure not to appear in photos with candidates wearing the Legion cap or clothing. He encouraged everyone to vote. The general election is Nov. 3.
He said National Commander James W. "Bill" Oxford of North Carolina plans to tour Minnesota, tentatively planned for April 5-9, 2021. He toured southern Minnesota on Feb. 17-19.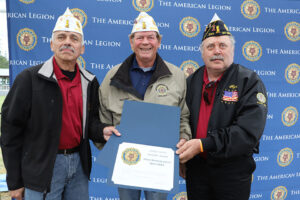 The National Convention is slated for Aug. 27 to Sept. 2, 2021, in Phoenix, Barbknecht said.
Minnesota Vice Commander for Districts 4 and 5 Teresa Ash, chairman of the COVID-19 Committee, urged people to reach out for new members.
"COVID is challenging, but getting new members is not challenging," she said.
Any member who signs up a new member gets a water bottle and a tote bag. Also, any member who brings a new attendee to a Department event will receive a water bottle and a tote bag. Some Department vice commanders have additional goodies.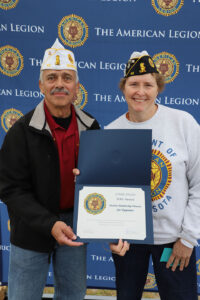 She encouraged people to participate in 100 Miles for Hope.
Legionville President Eugene Liefeld thanked Legionville Camp Director Tom Sanford and Camp Manager Adam Felton.
"Safety is in the name, so it is important that Legionville is safe," Felton said.
Many Districts and Posts turned in donations ranging from $50 to $1,000.
Iowa Sons of The American Legion Judge Advocate Mike Deacon was there, and he donated $100.
Bayport Post 491 was recognized for donating $3,000 to fix the hot water heater at Legionville.
Minnesota Auxiliary President Mary Hendrickson said she raised $23,000 for the President's Project, and the funds went to new golf carts at Veterans on the Lake in Ely and a new big-screen TV at the Silver Bay Veterans Home.
In the coming year, she hopes to purchase gift cards for county veteran service officers.
She mentioned that National President Nicole Clapp of Iowa is coming to the Fall Conference at Breezy Point Resort.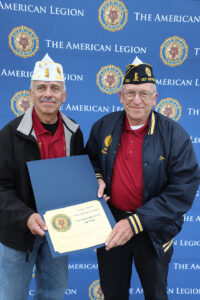 The Auxiliary's membership skits will have a rodeo theme. She congratulated Honorary Junior President Emily Seuss for being elected National Junior vice president for the Northwest District.
Seuss said Juniors raised $6,965 to help out the five Minnesota Veterans Homes.
Awards intended to be given at the canceled Appreciation Rally in March in La Crescent were handed out.
Appreciation Award
This went to 6th District Commander Paul Edwards. The District took the prize with 3.76 percent of membership growth between the Sweetheart Rally on Feb. 8 and the Appreciation Rally that had been set for March 21.
District Vice Cmdr. Awards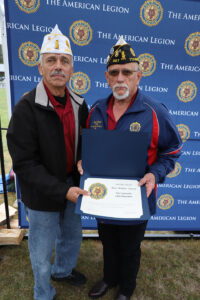 District commanders award these to vice commanders for excellent work in membership and outreach. They would have been awarded at the Appreciation Rally:
1. Mary Hanson of Austin Spam Post 570.
2. Steve Fosness of Fairmont Post 36.
3. Paul Busch of New Prague Post 45
4. Dave Dahl of St. Paul Post 8
5. Wade Larson of Minneapolis Gopher Post 440.
6. Karen O'Bar of Bertha Post 366.
7. David Manson of Spicer Post 545
8. Marvin Ott of Grand Rapids Post 60
9. Tim Haugen of Moorhead Post 21
10. Bob Larson of Buffalo Post 270
The remaining awards were originally planned to be presented at the canceled Department Convention at Jackpot Junction in July in Morton.
New Member Award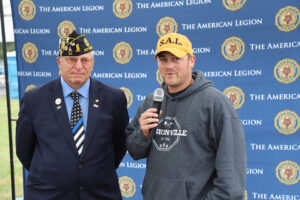 This one, for the percentage of new members, went to Sacred Heart Post 180 Commander Chris Dunsmore and Membership Director Earl Pederson.
New Member Award
This one, by amount of new members, went to Winona Post 9 Membership Director Dar Troke.
DMS Award
This went to 3rd District Membership Director Joe Tappainer. DMS is for direct mail solicitation, and the award is for percentage of transfers from Post 1982 AD.
Recruiter Award
This went, for signing up new members, to 1st District Membership Director Myron Ehrich and Department Vice Commander Pat Logan. The 1st District had 336 new members.
Premier Race Award
This is a plaque that moves among the District commanders as they compete for growing membership. This time, it went to 3rd District Commander Linda Dvorak.
Goose Egg
This one is about getting off the goose egg, not for being on it. Districts must have had at least one membership and one officer report turned in between July 1 and Aug. 5.
Winners, all membership directors, were Myron Ehrich of the 1st District, John Flynn of the 3rd District, Mickey Ostrum of the 4th District, Wade Larson of the 5th District and Mike Costello of the 6th District.
Department vice commanders also were recognized for being off the goose egg. They were Pat Logan of the 1st and 3rd Districts and Teresa Ash of the 4th and 5th Districts.
Harvest Gathering Award
Department Membership Director Sy Fix formed a competition to recognize the District with the highest percentage of Post 1982 and Post 1982 AD transfers. (Post 1982 is the at-large holding Post.)
The winner was Tim Haugen, 9th District membership director.