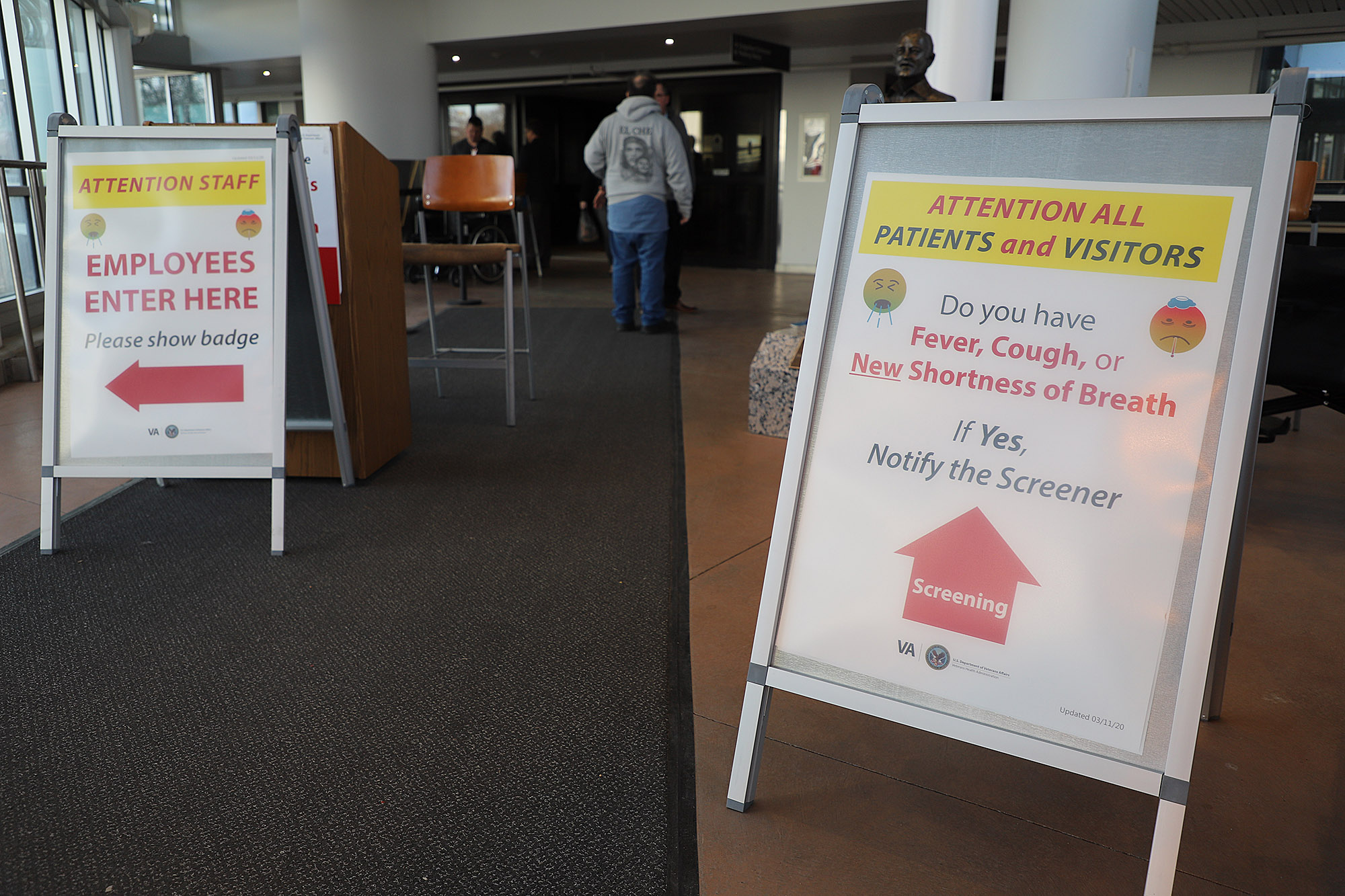 MINNEAPOLIS — Conferences cancelled. Screening at the VA. The Legislature on hold. Here is what is happening in the Minnesota veterans community as of today, Monday, March 16.
Screening
The VA hospitals in Minneapolis and St. Cloud, as well as at clinics around the state, have implemented screening at their entrances to prevent spreading of COVID-19 within their facilities.
This action is in line with VA facilities around the United States.
If you're a veteran seeking medical care, call before visiting — even if you already have an appointment. Or you can sign in to My HealtheVet.gov and send a secure message. You may be able to get diagnosed and receive care through VA telehealth without having to come in at all.
Veterans with scheduled appointments and without flu-like symptoms can plan to attend their scheduled appointments. Upon arriving at VA, all patients will be screened for flu-like symptoms before they enter in order to protect other patients and staff.
For the latest VA updates on coronavirus and common-sense tips on preventing the spread of disease, visit https://www.publichealth.va.gov/n-coronavirus/.
Veterans Day on the Hill
Disabled American Veterans Department of Minnesota Adjutant Trent Dilks and the committee made up of various service organizations and the county service officers have created a back-up plan to hold the event virtually. Plans are being shaped as events at the Capitol change. Watch for an update as plans come together.
"The COVID-19 virus has caused disruptions that limit gatherings throughout the state and nation. Current federal and state guidance requires that the scheduled Veterans Day on the Hill 2020 pre-event lunch, march and Capitol Rotunda rally will not convene in-person as scheduled on April 20," Dilks said.
The Commanders' Task Force, the Minnesota Association of County Veterans Service Officers and the United Veterans Legislative Council respectfully ask veterans to continue to hold 10 a.m. to noon on Monday, April 20, for a special Virtual Veterans Day On The Hill 2020.
Presently, the Legislature is shifting to allow state lawmakers to work remotely and limit large gatherings. The state plans to announce additional details Monday.
Appreciation Rally
The American Legion Department of Minnesota Commander Mark Dvorak, on Friday, announced the cancellation of the Appreciation Rally that had been planed for March 21 in La Crescent.
Any Legionnaire who made reservations at a hotel in La Crescent will need to cancel them 24 hours prior to check-in date.
"Please do this sooner than later," the commander requested.
The Department Executive Committee still plans to meet Saturday. Commander Dvorak says it will take place via teleconference at 11 a.m. March 21 in the Minnesota Department of Veterans Affairs Press Room in the Veterans Service Building in St. Paul. Adjutant Mike Maxa will be able to let anyone inside who wishes to attend in person. (It's a good idea to let him know in advance that you want inside the locked building.)
Teleconference information was sent via email to the expected attendees.
The Department Convention slated for July, as well as other meetings, remain planned as scheduled.
Decisions to cancel District-level meetings and Post-level meetings are at the discretion of the respective commanders.
The federal Centers for Disease Control in Atlanta is recommending no gatherings of 50 people or more for the next eight weeks (till May 10). Many decision-makers around the country handling small meetings are allowing those who feel comfortable meeting in person to meet in person, while ones who feel uncomfortable can connect via teleconference.
Auxiliary National President's Tour
The American Legion Department Secretary Sandie Deutsch says the National President's Tour of Minnesota, slated for April 6-8, has been canceled.
National President Nicole Clapp of Iowa was set to visit Pine Island, Roseville, Osseo, Waite Park and Forest Lake.
National commander message
The American Legion National Commander Bill Oxford called on Posts to be nimble in their approach to serving their communities.
"We have faced down enemies, foreign and domestic, throughout our nation's history. While this threat is ominous, we will once again work together to overcome it," he said in conclusion.
He urged people to protect themselves by washing hands and practicing social distancing and said it is a good time to perform Buddy Checks with older veterans.
"Of course, Buddy Checks can be done with phone calls and emails so as not to risk spreading or contracting coronavirus," he noted.
Bowling Tournament
The American Legion Bowling Tournament, set for March 21-April 18, has been postponed for this weekend. Watch for updates for plans going forward: http://mnlegion.org/bowling/
VFW
The Veterans of Foreign Wars Commander Chad Solheid issued a message on the department website that district commanders can make the decisions to change the dates of their meetings or venues to accommodate social distancing.
Solheid said the VFW state hockey tournament slated for March 20-23 in Thief River Falls will be cancelled and not rescheduled.
The state convention for June 2020 remains scheduled as planned.
World War II Roundtable
The Minnesota Historical Center has closed until the end of March, and the March 24 program by author Daniel Crosswell, who was to speak on Gen. Walter Bedell Smith, chief of staff for Gen. Dwight Eisenhower and later director of the CIA, has been cancelled.
The April 9 program with Don Caldwell, who is slated to speak on tank battles in the Philippines, is undetermined at this point.
Vietnam Roundtable
The Vietnam War Roundtable slated for this evening at Concordia University in St. Paul has been cancelled.
For the time being the Minnesota Military Museum is closed, and the board of directors will determine when to reopen.
The April 20 program of the Vietnam War Roundtable is undetermined, as Concordia University, which is the host, will make its determinations on campus activities.
Virtual approach
Many other veterans gatherings, such as Project Got Your Back's Process Task Force gathering set for 10 a.m. at 1605 Eustis St. in St. Paul and the Eagle Group of Minnesota Veterans regular gatherings to help vets succeed at finding work, and are shifting to virtual meetings amid concerns over spreading COVID-19.
Minnesota Department of Veterans Affairs
The MDVA is providing updates from state officials here: mn.gov/mdva/news/pressroom/?id=1066-422936
This morning, the four Legislative leaders provided additional details on what they'll be focused on in the coming weeks, and how they're prioritizing legislative activities. They've identified three "buckets" for initiatives, and legislation being considered should meet these criteria:
Coronavirus/COVID-19 related legislation
Mission critical items (bonding bill was one example provided)
Items with broad bipartisan agreement (i.e., non-controversial issues)
Precaution: Legislature to be 'on-call' for four weeks
https://www.house.leg.state.mn.us/sessiondaily/Story/15205
"House Speaker Melissa Hortman (DFL-Brooklyn Park), House Minority Leader Kurt Daudt (R-Crown), Senate Majority Leader Paul Gazelka (R-East Gull Lake) and Senate Minority Leader Susan Kent (DFL-Woodbury) announced Sunday the Legislature will work by alternate means until April 14.
"We expect to operate efficiently and safely to aid Minnesotans with COVID-19 preparedness and response, and to continue our work to address other pressing needs of the state," the four said in a statement. "While it's important that we remain in session to swiftly respond to the needs of Minnesotans at this time, we will fully comply with Minnesota Department of Health (MDH) guidelines including social distancing, limiting large gatherings, telework, and increased cleaning measures.
"The Legislative bodies and committees will meet in floor and committee session on an on-call basis from March 16 through April 14. This means there will not be standing floor and committee meetings, but we will meet on the House and Senate floors and in committees with advance notice to members and to the public. All meetings will be held in spaces that allow six feet of distance between individuals. We will implement telework arrangements for legislative employees where it is possible to do so. We encourage Minnesotans to continue to reach out to their legislators by email, telephone and mail during this period while we are operating via alternate means. We intend to take up legislation on the House and Senate floors during this time period only by agreement of the House DFL, House GOP, Senate DFL and Senate GOP caucus leaders."