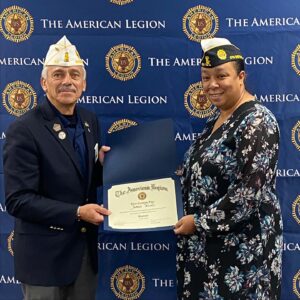 We recently interviewed Navy veteran Jamie Wood about her experience as a member of the Minnesota American Legion, and we're excited to share her story with you in her own words:
I joined the U.S. Navy to see the world. To my surprise, I was exclusively stationed in the Midwest. Being from Minnesota, that was not what I was hoping for, but I learned so much during those years. I became more disciplined, developed a profound amount of respect and honor for my military brothers and sisters and our nation and grew in humility.
Three years ago, I joined the Minnesota American Legion at-large. Shortly after, I received a call to join Johnnie Baker Post 291. It was significant to me because I didn't know much about the Legion, and I didn't know any Legion members. Overnight, I had a whole new family!
Although I haven't taken advantage of any of the services my local Post offers yet, I love how the Minnesota American Legion advocates for veterans in Washington, D.C. It's important to the Legion that all veterans are taken care of and that we have everything we need. 
I had already been out of the Navy for 10 years when I joined my local Legion so I didn't need help reintegrating into civilian life. However, I immediately felt understood in a new way. I was with people who understood my military experience. 
The Legion is so much more than just a bar where you can get a cheap drink! It's an organization that fights for veterans and serves children in the community. I would love to organize community events through my local Post! Veterans deserve to be honored and I want to create more awareness about our amazing community of vets. 
When I speak with other young vets about the Minnesota American Legion, I explain how the Legion advocates for us and gives us a place to belong. I also love sharing about the good work they do in our communities and in our schools.
I love knowing that I can call on anyone I've met in my district. I've met a lot of great people I wouldn't have met otherwise, and I've had opportunities I wouldn't have had otherwise. Our post, district, state and nation have some of the most wonderful people as members that you will ever meet. I'm here to serve and love the sense of camaraderie  — we're truly all in this together! #joinmnamericanlegion