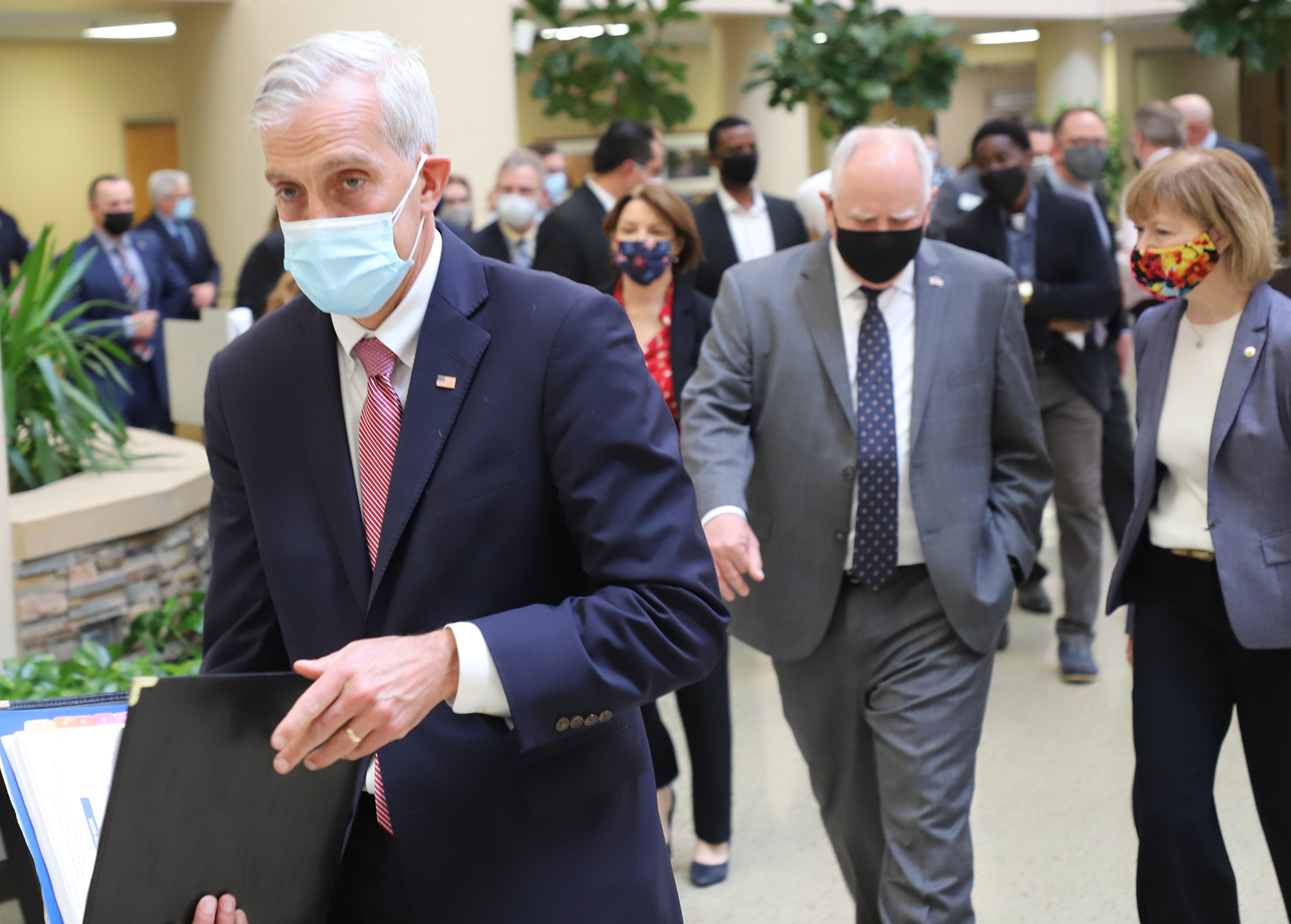 MINNEAPOLIS — U.S. Secretary of Veterans Affairs Denis McDonough returned to his home state on Friday, May 21, and touted the Minneapolis VA Medical Center's veteran suicide prevention efforts.
McDonough said 1. suicide is preventable; 2. halting suicides will require public health measures; 3. it will take everyone's help, not just the VA.
"Any single suicide is preventable and is a tragedy," he said.
The last five years, McDonough said, has seen a decrease in suicides, though clinical care is key to that success.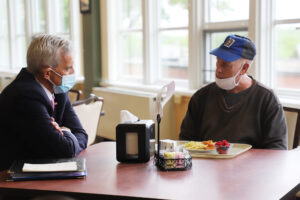 He said he has spoken with veterans going through the care and he said they tell him: "I appreciate knowing that when I left I felt the VA was going to keep looking in on me."
He said the Minneapolis VA Medical Center has 40 community cooperation agreements that address suicide, with 11 of them added during the pandemic. It is part of VA pilot program to reduce the number of veterans who take their own lives.
He was in Minnesota to learn more about what's being done so those lessons can be used nationally. McDonough came at the invitation of U.S. Sens. Amy Klobuchar and Tina Smith.
The secretary also lauded VISN 23's suicide prevention efforts. VISN 23 is the VA's Midwest Health Care Network, serving Minnesota, Iowa, Nebraska, the Dakotas and parts of Kansas, Missouri, Wisconsin and Wyoming. It is based in Eagan.
He toured the Minneapolis VA, and one vet told him it is the best one. McDonough said he is proud of the team there.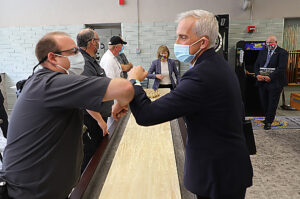 "It has the support of the delegation," McDonough said, talking about the politicians Minnesota sends to Washington.
Veterans rehabilitation is one of the pillars of The American Legion, and that includes preventing suicides and homelessness. From the Buddy Check program to Posts stepping in when veterans are struggling, The American Legion has been involved in addressing veterans' care since it was founded, to include being instrumental in the creation of the VA itself.
National Commander Bill Oxford, when visiting Minnesota last month, urged veterans to enroll in VA care, noting the best way to help them is to be aware of them.
NPRC
Work stoppage during COVID resulted in a lengthy backlog at the National Personnel Records Center in St. Louis, making it difficult to get information for determination of claims.
McDonough, asked by The Minnesota Legionnaire about the issue, explained the process to the media in attendance, then noted the Veterans Benefits Administration is at functional zero (a short turnaround time). He encouraged veterans to contact the VBA, rather than the NPRC, when making inquiries about their records.
Toxic burn pits
McDonough spoke about visiting secret base K2 in Uzbekistan, and said there will be new information coming soon from the federal government. He likely was referring to the K2 Veterans Care Act of 2021, along with several other pieces of legislation to address toxic exposure.
The American Legion supports these measures through several resolutions and has pushed the federal government to take action to care for these veterans.
Klobuchar added she would like burn pits to avoid turning into this generation's Agent Orange.
Other officials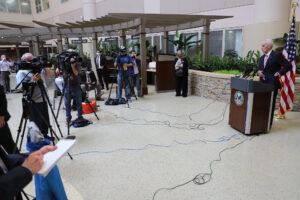 In addition to Klobuchar and Smith, with him at the podium were Gov. Tim Walz and U.S. Rep. Ilhan Omar. They all had toured the hospital with the secretary.
Walz spoke of the three new Minnesota Veteran Homes that are coming to Preston, Bemidji and Montevideo, and how they will aid in prevention efforts.
"We can't rest until every veteran gets the mental health care that they need," he said.
Klobuchar noted that, on the hospital tour, she saw work that showed how strong the care is in Minneapolis for spinal injuries and brain injuries. She spoke about machines to help people suffering from ALS and robotic equipment to aid patients learning to walk again.
She said veterans suffer from more than physical injuries, there are brain and mental health injuries, too. There are Vietnam veterans still struggling with PTSD, she said.
Klobuchar also mentioned toxic burn pits, and the case of Minnesota's Amie Muller, who was stationed in the Mideast next to a burn pit. About a decade after she returned, she died from pancreatic cancer.
"This is the signature injury coming home right now," she said.
Smith thanked the veterans and the VA staff.
"They told me this place is a life saver," she said.
She noted that veterans issues are where Republicans and Democrats often come together.
"I think that is something we need to hold together," she said.
Omar said she met a veteran who served in Somalia during a tour of the hospital. The man was part of a military effort to make sure a food blockage didn't succeed.
"It was the first time I met a veteran who served in my home country," she said.
She talked about ending veteran homelessness and space in the VA for care of female veterans.
Other stops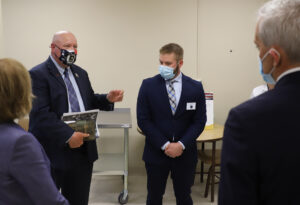 McDonough toured the St. Cloud VA Medical Center on Thursday, May 20, and he toured the Minnesota Department of Veterans Affairs' Hastings Veterans Home later on Friday, May 21.
McDonough became the 11th VA secretary in February. (The head of the VA became a Cabinet-level position in 1989.) He is the second non-veteran to lead the Department of Veterans Affairs.
He was born and raised in Stillwater and graduated from Stillwater High School in 1988. He attended St. John's University in Collegeville, where he played football.
He served as White House chief of staff during President Barack Obama's second term. He is married with three children.