ST. PAUL — The Minnesota Commanders' Task Force didn't give up on the Veterans Restorative Justice Act, and it got over the hump at a most unlikely time because the veterans organizations were working together and veterans all across Minnesota called their representatives and senators.
That was the sentiment of Todd Kemery, chairman of the CTF. He is vice president of the Minnesota Paralyzed Veterans of America.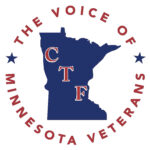 "To have the Veterans Restorative Justice Act wind up in the 2020 outbox during a third special session, while the COVID-19 pandemic is going on, and with criminal justice coming to the forefront, and even before the bonding bill gets done, well, that's a great job," he said. "We could not have done that without the commanders, the associates, other supporters, local members who took the time to email and call political leaders, and the Minnesota Department of Veterans Affairs staff for their work on the bill."
It passed the Senate on Aug. 13. It passed the House in 2019. Kemery and other CTF members received word from Senate and House leaders that it will be passed again when a bond-rating quiet period ends.
American Legion Department of Minnesota Commander Mark Dvorak said the CTF has worked on the Veterans Restorative Justice Act for the last three years.
"They have done a tremendous job on it, and finally it has come to fruition," he said.
Dvorak said many Legion members statewide called their senators and representatives after reading the August issue of The Minnesota Legionnaire, and those calls had a positive impact. He thanked the senators for changing course from last month and looks forward to the bill reaching the governor's desk in September.
"It shouldn't have taken this long," he said.
VFW Department of Minnesota Commander Curt Hermanson said this would not be possible without unified support from all of the CTF members.
"In the future, lawmakers are going to see more of a unified front to ensure veterans will get what veterans have earned," he said.
Kemery said the cooperation at the CTF is a prime example of why veterans should join more than one veterans organization.
The CTF comprises The American Legion, Veterans of Foreign Wars, American Veterans, Paralyzed Veterans of American, Disabled American Veterans, Jewish War Veterans, Military Order of the Purple Heart, Vietnam Veterans of America, Marine Corps League.
He said the CTF will move forward with its 2021 legislative agenda in September. The CTF meets on the second Tuesday of the month.