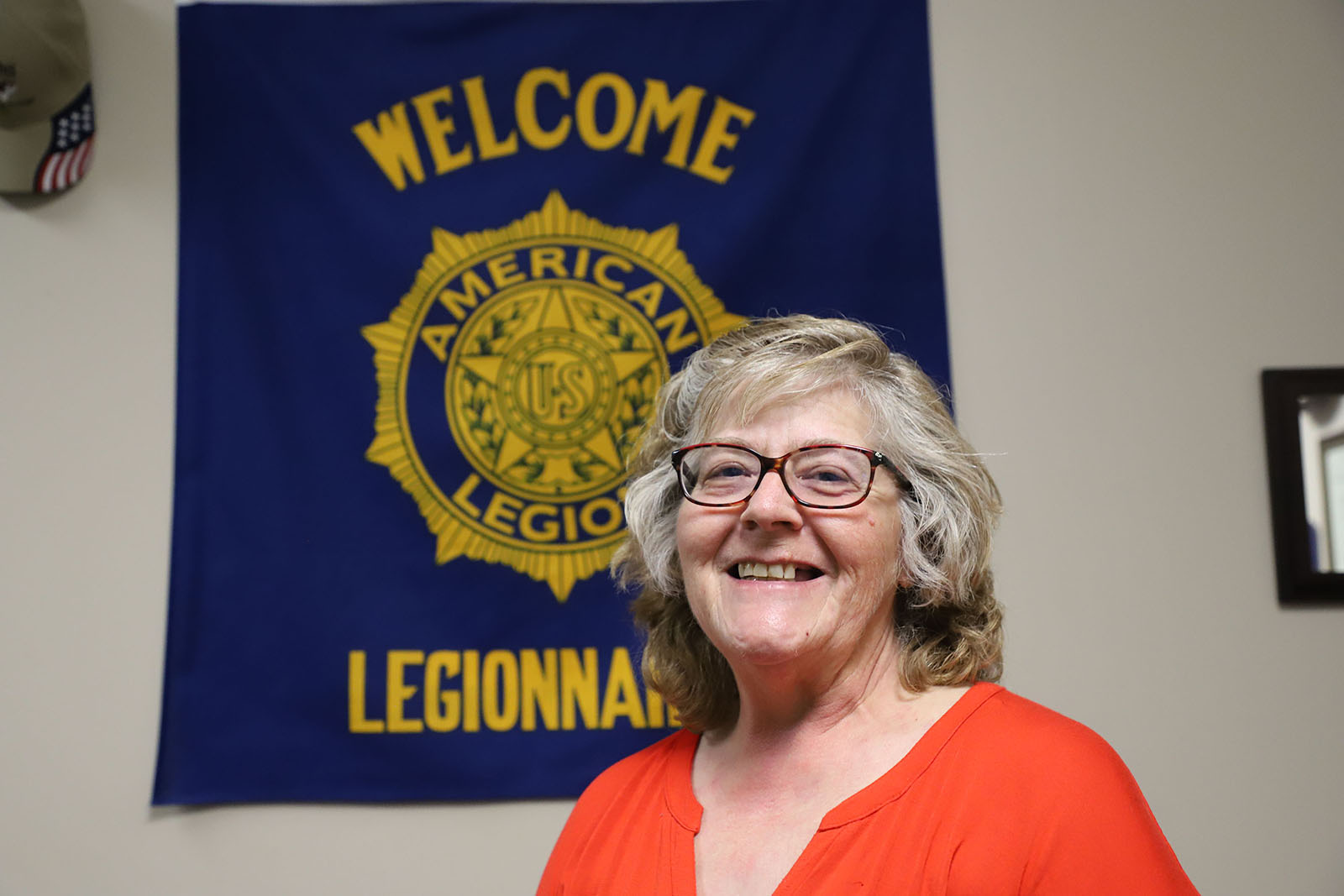 The American Legion and MACV found solutions
By Tim Engstrom
The Minnesota Legionnaire
MINNEAPOLIS — Imagine suffering from a life-threatening health problem in an unfamiliar state, and then the hospital kicks you out on the street to fend for yourself because you lack proper insurance.
That's the situation long-haul trucker and Army veteran Sharon L. Davis of Henry County, Tennesee, found herself this winter. The American Legion, the Minnesota Assistance Council for Veterans and the Minneapolis VA Medical Center came to her rescue after the Mayo Clinic apparently left her in a lurch.
"They should have called someone and transferred her care to the VA Medical Center in Minneapolis," said Jeremy Wolfsteller, the service officer for The American Legion Department of Minnesota.
In 1978, Davis could not get into auto-mechanic school after attending Madison West High School in Wisconsin, so she entered the Army and, after basic at Fort McClellan, Alabama, she worked as a track-vehicle mechanic. During advanced training at Fort Knox, there were 63 men and three women.
A little 5-foot-tall woman working on big, menacing machines was quite a picture.
Davis found a beau and went the stay-at-home-mom route while her husband continued to serve, three sons born at Fort Hood and two daughters at Würzburg, Germany, before splitting in 2006. They had settled in Henry County, Tennessee, where she drove a school bus and did odd jobs.
Eventually, she picked a new line of work, though she loved the schoolkids.
"They pay you a fortune to haul Cheerios. They pay you nothing to haul children," Davis said.
In the summer of 2016, she drove a straight truck and fell in love with the over-the-road lifestyle — the freedom, the people, the places.
She was on the road so much, there was no need for renting an apartment. The truck was her home.
To get a Class A commercial driver's license, she worked for corporation out of Springfield, Missouri, for a year, now driving a semi. Then she moved Stoughton, Wisconsin, where she could be near loved ones who needed her help and work for a Green Bay paper hauler.
Unfortunately, close to three months later, a wind gust caught her empty trailer while she was crossing black ice, and it spun her rig 180 degrees.
"I was only going 48 mph when the wind caught me," Davis said. "They had to let me go because I was under 90 days."
Lawrence Transportation in Rochester hired her because she was a veteran, a woman, mature and didn't mind life away from home, she said. Davis began on March 1, 2019.
Fast forward to Jan. 24 of this year. Davis woke up at 3 a.m. in her truck's sleeper cab at the Lawrence yard in excruciating pain. She called a taxi, and the cab driver called 911. Five police officers came, along with fire rescue and an ambulance, to bring her to the Mayo Clinic.
It turns out she was processing a large kidney stone, and a doctor determined her kidneys were 50 percent full of stones. She had a hernia, too. Mayo did a minor operation: Put bags on each ankle with tubes to her kidney to drain fluid, and she was told her kidneys needed time to heal.
A doctor came to discuss her insurance. She explained, like she had when she arrived, that she had VA Health Care. The doctor explained the Mayo Clinic does not accept VA. In other words, it is not part of the third-party contract administered through Optum.
"They said to see if they can work out financing and that we would do a follow-up in two weeks," Davis said. "After that, it was like a light bulb switched."
She speaks kindly about the nurses, but she said otherwise she felt ignored after that insurance conversation. Then she was discharged with her bags and tubes and no advice.
It was Jan. 27, a Monday.
"Mayo has been known to do that to veterans because veterans are not part of their nebulous," Wolfsteller said.
Davis took an Uber to her truck at Lawrence yard. On Tuesday, her company allowed her to drive a company vehicle to Olmsted County's veterans service officer so she could transfer her VA care from Tennessee to Minnesota and get a fax of her DD214 from records at the Paris County Courthouse.
(Editor's note: Kids, when you exit the military, bring your DD214 to your local courthouse to become a permanent record.)
Davis — clearly a let's-go kind of worker, a trait common among veterans — was back on the road, doing short hauls, for less than a week. She made it to Ogden, Utah, and fought a snowstorm on I-80 in Wyoming on the way to Brownsville, Tennessee.
"When I got in late to Brownsville, I wasn't feeling too swift," Davis said. "When I woke up on Tuesday, Feb. 11, I thought I had the flu."
After delivering a load to Indianapolis, she came back to Rochester. She slept for three hours at Roscoe's on the Wisconsin-Illinois border. She got in late on Feb. 14, and she called the Rochester VA office to inquire about the paperwork. That was inconclusive, but she advised her to call the VA in Minneapolis.
She got back to Rochester around 5 p.m.
A very good Samaritan paid for an Uber to get Davis to the Minneapolis VAMC. When she arrived, they had her in the emergency room within five minutes.
CAT scan. X-rays. New bags. Antibiotics. Cultures. Advice.
"I felt like I was finally getting cared for," Davis said. "I had a team of four doctors and daily they would come and update me."
On Feb. 20, a doctor told her she would be discharged. Davis said the doc felt really bad because she had nowhere to go. A nurse helped her download the Airbnb app, and Davis managed to find a place up the light rail line for that night.
But she needed to figure out how to get there and needed to find housing for beyond that night. The VA information desk suggested the library. A supervisor at the library suggested she speak with Jeremy Wolfsteller of The American Legion.
Davis came to the fourth floor, found his office and walked in.
"I could tell by the look on her face she was distressed," Wolfsteller said.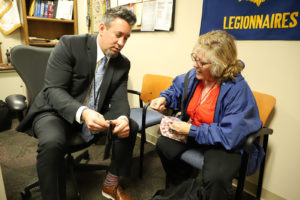 It was getting late in the day, and he wanted her to have time for errands. He provided her with meal cards and gift cards for food and clothing. She headed off while he worked on her situation. By 4 p.m., Neal Loidolt, president of the Minnesota Assistance Council for Veterans, had found space for Davis within MACV's new women's transitional housing.
The next morning, Wolfsteller let Davis know there was a place, and a little after 1 p.m., Davis was at the MACV main office at 1000 University Ave. They took her to the housing.
"I was in awe of all of this," she said. "Before the Legion and MACV, I was preparing for the worst. I had a piece inside of me that said I was going to be OK. The way I ended up getting to Jeremy was nothing short of a miracle."
She stayed at the transitional housing with three other woman veterans, and though they had other reasons for being there. They connected by talking about life, men, kids.
"It was a great environment," Davis said.
Once she was in MACV's hands, its staff did everything from carrying her bags to assist her with paperwork, in addition to giving her transit tokens to get to the hospital.
"I have a difficult time asking for help," she said.
David Nguyen, statewide operations manager for MACV, said: "This is an example of what homelessness looks like in Minnesota. Nobody just wakes up and becomes homeless. It stems from multiple situations."
Those often are mental health, addiction, physical health, job loss, legal issues or a medical barrier, he said.
Nguyen said MACV works on the root causes in an effort to find housing for homeless veterans.
"If a veteran remains engaged with us, we will remain engaged with them to the bitter end," he said.
Davis praised Minnesota's response to preventing a veteran from homelessness.
"To be a homeless veteran in a strange state, you are doing pretty good," Davis said. "I can't say the same for every state."
Davis was welcome to stay at the women's transitional housing until her VA care is done and she can get back on the road. Lawrence Transportation has assured her she will have a job as soon as she is medically able to drive a commercial vehicle.
VA doctors zapped the stones in her right kidney on March 23, and further procedures are in the works. Wolfsteller used American Legion funds available to him to provide emergency financial assistance and to make sure she will have transportation on the rail line and back to Rochester when the time comes.
"This 1960 Chevy is going to get all her repairs done, and then she is going to hit the road," Davis said.