Memorial Day will be here soon, and many organizations are making plans to recognize this important date.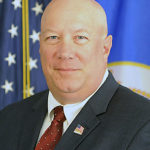 As you may know, the stay-home executive order will expire on May 18. On Wednesday, the governor announced that he will replace it with an order continuing to encourage Minnesotans to stay close to home but allowing for gatherings of friends and family of 10 people or less.
All three Minnesota State Veterans Cemeteries remain open for visitors and we welcome groups of 10 or less on Memorial Day.
As you consider your organization's Memorial Day plans, we strongly advise you to follow the guidance of the Stay Safe MN order.
There are restrictions outlined in EO 20-56:
All gatherings of more than 10 people are prohibited.
Gatherings are groups of individuals, who are not members of the same household, congregated together for a common or coordinated social, civic, community, faith-based, leisure, or recreational purpose—even if social distancing can be maintained.
This prohibition includes planned and spontaneous gatherings, public and private gatherings, and indoor and outdoor gatherings.
Examples of prohibited gatherings include, but are not limited to, social, civic, community, faith-based, or leisure events, sporting or athletic events, performances, concerts, conventions, fundraisers, parades, fairs, and festivals that bring together more than 10 people from more than one household. Prohibited gatherings do not include commercial activity by workers and customers of Critical and Non-Critical Businesses.
We believe this order would prohibit all live Memorial Day programs and events.
As an alternative, you may want to explore hosting a virtual event. MDVA will be holding a virtual Memorial Day program in place of the traditional live events at the three State Veterans Cemeteries in Little Falls, Preston and Duluth. MDVA has partnered with Twin Cities PBS-TPT to create a 30-minute Memorial Day program entitled "Always Remember: A Minnesota Tribute to Veterans we've lost." It will be broadcast across the state on TPT's Minnesota Channel at 7:30 p.m. on Monday, May 25. The program will also be available to stream from both the TPT and MDVA websites.
We realize this is a challenging situation but encourage you to remember that the COVID-19 pandemic isn't over yet; it's a marathon, not a sprint.
— Larry Herke, commissioner, Minnesota Department of Veterans Affairs